Gravol
Gravol Comfort Shaped Suppositories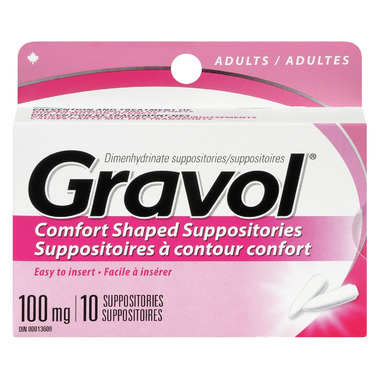 Gravol
Gravol Comfort Shaped Suppositories
100 mg
10 Count
Gravol Comfort Shaped Suppositories
is rated out of
5
by
2
.
---
Description
If keeping food and liquids down is a problem, or if vomiting due to motion sickness has already started, Gravol Comfort-Shaped Suppositories are the dosage form of choice to ensure effective relief. This product contains the active drug Dimenhydrinate, for the prevention and treatment of nausea, vomiting and dizziness due to motion sickness.
Features:
Comfort Shaped
Portable
Ideal for already vomiting due to sickness
Directions:
(Adults) Unwrap and insert ½ to 1 suppository every 6 to 8 hours as needed, at least 30 minutes, and preferably 1 or 2 hours, before travelling. Do not use more than 3 suppository in 24 hours. To divide a suppository in two equal parts, unwrap and carefully cut with a sharp edges blade through the
suppository. For easier insertion and greater patient comfort, moisten and smooth any edges on the suppository prior to use, after unwrap.
Ingredients:
Dimenhydrinate 100 mg, Polyethylene Glycol, Silicon
Dioxide, Titanium Dioxide.
Caution:
Ask a doctor or pharmacist before use if you have glaucoma , chronic lung disease, difficulty urinating. Take antihistamines tranquilizers, sedatives, are pregnant or breastfeeding. When using this product drowsiness may occur. Do not drive or engage in activities requiring alertness. Excitability may occur, especially in children. Avoid alcoholic drinks. Prolonged use should be only on the
advice of a doctor
Keep out of reach of children. In case of overdose, call a poison control centre or get medical help right away.
Should you require consultation with a pharmacist, you may contact our Well.ca Pharmacist. Please read the label, warnings and inserts provided by the manufacturer and consult your healthcare professional when purchasing medications or natural health products to be sure the product is right for you.
Highlights

Features
Comfort Shaped
Portable
Ideal for already vomiting due to sickness
Ingredients
Dimenhydrinate 100 mg, Polyethylene Glycol, Silicon Dioxide, Titanium Dioxide.
Shipping & Returns
Unfortunately, due to the nature of this item, we cannot accept any returns.
We are only able to ship this item to Canadian customers.
This item cannot be shipped to Quebec due to provincial pharmacy regulations.
Click here for more information
Rated

5

out of

5
by
Meaghan
from
Faster and more effective than oral gravol pills with much fewer side effects
This is my favorite type of Gravol. I have chronic pancreatitis which causes severe nausia and vomiting too severe to be able to swallow oral gravol and wait for it to take effect. These suppositories provide instant releif, and have much fewer side effects than oral gravol pills. Causes next to none fatigue or brain fog. Works best of you hold them under warm water for 5 to 10 secconds before inserting to make it easier and more comfortable.
Date published: 2020-06-21
Rated

5

out of

5
by
Zin
from
When nothing stays down...
When you are dealing with a medical condition where absolutely nothing stays down, so taking normal Gravol is impossible and dehydration is a very big risk, these are very helpful and have saved us many hospital visits which would have been only other option! Always have them on hand now for those "attacks"!!
Date published: 2021-03-30