Gravol Comfort Shaped Suppositories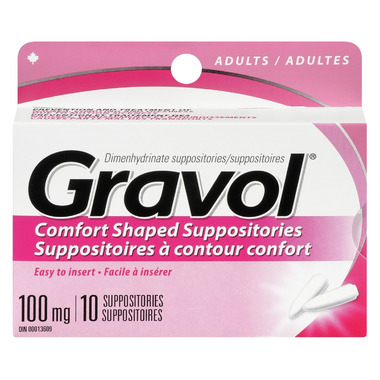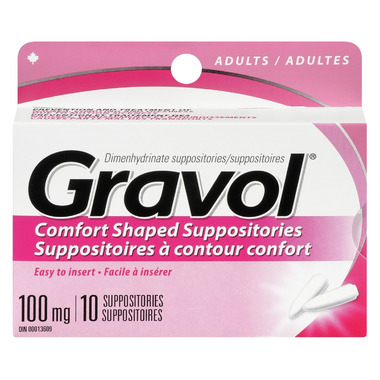 Gravol Comfort Shaped Suppositories
If keeping food and liquids down is a problem, or if vomiting due to motion sickness has already started, Gravol Comfort-Shaped Suppositories are the dosage form of choice to ensure effective relief.

This product contains the active drug Dimenhydrinate, for the prevention and treatment of nausea, vomiting and dizziness due to motion sickness.

Features:

Comfort Shaped
Portable
Ideal when already vomiting due to motion sickness

Dosage: For the prevention and treatment of nausea, vomiting and/or dizziness due to motion sickness, insert 1/2 to 1 rectal suppository every 6 to 8 hours as needed or as directed by a physician. To divide a suppository in two equal parts, remove from packaging and carefully cut with a sharp edge blade through the suppository. For easier insertion and greater patient comfort, moisten and smooth any edges on the suppository prior to use, after removing from packaging. Use the first dose at least 1/2 hour and preferably 1 to 2 hours before departure.

Caution: Do not exceed the recommended dosage. MAY CAUSE DROWSINESS. AVOID DRIVING A MOTOR VEHICLE OR PERFORMING TASKS REQUIRING MENTAL ALERTNESS. Avoid alcoholic beverages. Do not take if you have: glaucoma, chronic lung disease, difficulty in urination due to an enlargement of the prostate gland, or if you are pregnant or breast-feeding unless directed by a physician. Do not take with other antihistamines, tranquilizers or any other sedating drugs without consulting a physician. May cause excitability, especially in children. Prolonged use should be only on physician's advice.

KEEP OUT OF THE REACH OF CHILDREN. Store at room temperature not exceeding 27°C.
April:
more than a year ago
For a non-prescription OTC preparation this is the only type that I can use when vomiting begins or is about to. There's no point taking oral gravol unless the nausea is mild to moderate, because I just throw them up before they can work. This is a rapid way to get the medication into your system and work almost immediately.
Page
1