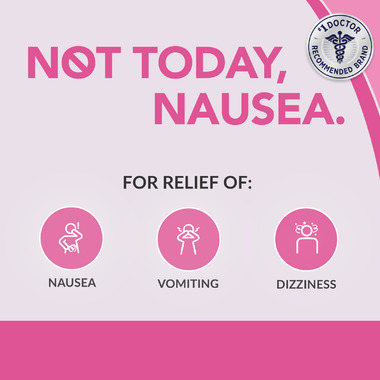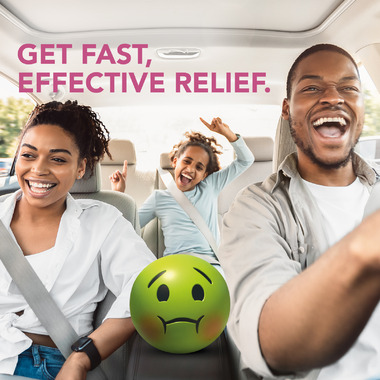 Description
An alcohol free, fruit flavoured liquid, for young children, for the elderly and those with difficulty in chewing or swallowing other dosage. This product contains the active drug Dimenhydrinate (15 mg/5 mL), for the prevention and treatment of nausea, vomiting and dizziness due to motion sickness.

Directions:
Children under 2 years: as directed by a physician. Children 2 to 6 years: Take 1 teaspoon (5 mL) every 6-8 hours as needed. Do not take more than 5 teaspoons (25 mL) in 24 hours. Children 6 to 12 years. Take 2 teaspoons (10 mL) every 6-8 hours as needed. Do not take more than 10 teaspoons (50 mL) in 24 hours. Take at least 30 minutes, and preferably 1 or 2 hours, before traveling.
Caution:
Ask a doctor or pharmacist before use if you have glaucoma , chronic lung disease, difficulty urinating. Take antihistamines tranquilizers, sedatives, are pregnant or breastfeeding. When using this product drowsiness may occur. Do not drive or engage in activities requiring alertness. Excitability may occur, especially in children. Avoid alcoholic drinks. Prolonged use should be only on the advice of a doctor. Keep out of reach of children. In case of overdose, call a poison control centre or get medical help right away.
Should you require consultation with a pharmacist, you may
contact our Well.ca Pharmacist
. Please read the label, warnings and inserts provided by the manufacturer and consult your healthcare professional when purchasing medications or natural health products to be sure the product is right for you.
Highlights

Features
Ingredients
Dimenhydrinate 15 mg, Citric acid, avour, polysorbate 80, propylene glycol, sodium benzoate, sorbitol, sucrose, water.
Shipping & Returns
Unfortunately, due to the nature of this item, we cannot accept any returns.
We are only able to ship this item to Canadian customers.
This item cannot be shipped to Quebec due to provincial pharmacy regulations.
Click here for more information