Gravol Natural Source Ginger Liquid Gel Capsules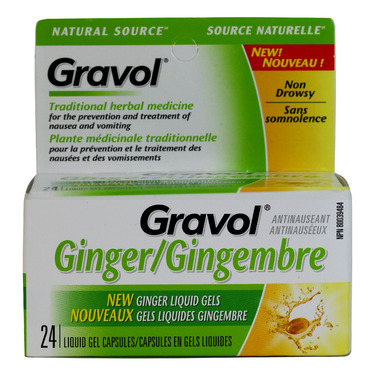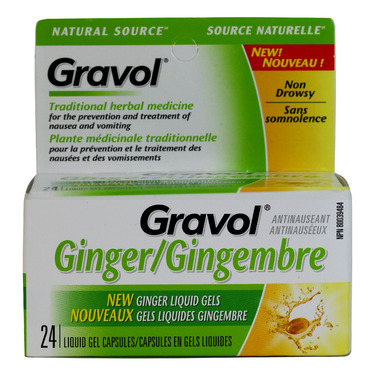 Gravol Natural Source Ginger Liquid Gel Capsules
Gravol Natural Source Ginger Liquid Gel Capsules are taste free and easy-to-swallow, eliminating any pungent or bitter aftertaste. Plus, they're made with certified organic ginger!
Features:

Non Drowsy
Natural Source
Easy to Swallow
Indications: For the prevention and treatment of nausea and vomiting.

Directions: Adults and children 6 years and over: take 2 capsules every 4 hours 1 to 3 times a day. Do not exceed 6 capsules a day. For the prevention of motion sickness take 1 capsule at least 30 minutes before departure.

Caution: Do not exceed the recommended dosage. Consult a physician if symptoms persist.
Store at room temperature below 27ºC.

KEEP OUT OF THE REACH OF CHILDREN. No drowsiness has been reported. The medicinal ingredient ginger is not contraindicated for pregnant women. All pregnant women, however, should consult their health care practitioner before taking medication of any sort.
Sue:
more than a year ago
This is a great product. It's an effective treatment for nausea. I also use it to prevent heartburn if I'm going to eat something that will cause that. It doesn't cause drowsiness which is a big bonus. I used to make ginger tea when my stomach was upset, but taking one of these is much easier.
Page
1