Gravol
Gravol Natural Source Ginger Lozenges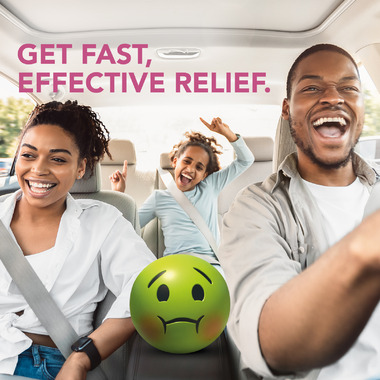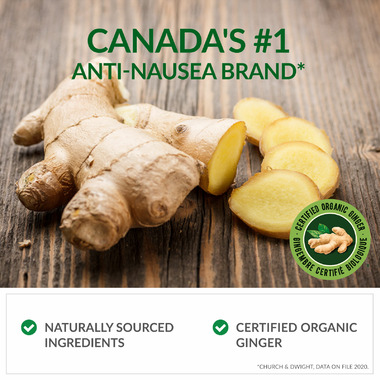 Gravol
Gravol Natural Source Ginger Lozenges
Non Drowsy
20 Count
Gravol Natural Source Ginger Lozenges
is rated out of
5
by
13
.
---
Description
Relieve upset stomach and nausea with Gravol Ginger Chewable Lozenges. Each non-drowsy Gravol Ginger Chewable lozenge contains therapeutic levels of Certified Organic Ginger for the prevention and treatment of nausea and vomiting and to help relieve upset stomachs. These great tasting lozenges are soft and easy to chew and can be taken without water.
Directions:
(Adults and chidren 6 years and older) take 2 lozenges every 4 hours 1 to 3 times a day. For the prevention of motion sickness, take 1 lozenge at least 30 minutes before departure. Do not exceed 6 lozenges a day.
Caution: Do not exceed the recommended dosage. Consult a health care practitioner if symptoms persist or worsen. Store between 15°C and 25°C. Keep out of the reach of children.

Highlights

Features
Gravol Ginger Chewable Lozenges contain naturally sourced ingredients to relieve upset stomach, nausea and vomiting
Contains therapeutic levels of Certified Organic Ginger in every lozenge
Traditionally used in Herbal medicine to help relieve digestive upset, nausea and vomiting.
Effective, non-drowsy relief
Easy to chew, great tasting lozenges
Ingredients
Medicinal Ingredients: Organic ginger extract 20 mg (Zingiberofcinale) (root & rhizome), equivalent to 340 mg ginger dried root or 25% gingerols. Non-Medicianl Ingredients: Acacia, Beeswax, Beta-Cyclodextrin, Citric Acid, Glycerol, Lemon Essential Oil, Liquid Parafn, Maltitol, Orange EssentialOil,Stevia Leaf, Water.
Shipping & Returns
Unfortunately, due to the nature of this item, we cannot accept any returns.
We are only able to ship this item to Canadian customers.
Click here for more information
Rated

5

out of

5
by
Cinbin
from
I actually use Gravol when I'm playing first person shooters like Halo or Resident Evil or Katamari Damacy - I get really nauseous when there is a lot of movement on the screen. I tried taking regular Gravol, but it makes me very drowsy so I figured I'd try the ginger stuff, and it really works quite well. Best of all, no yucky pill taste in your mouth! Like any other Gravol, just remember to take it at least half an hour before you're going to do anything that might make you nauseous.
Date published: 2009-03-25
Rated

5

out of

5
by
Bluenoser
from
Great-tasting "candies" have soothing effect
I know they aren't really candy, but when I have one, I feel a bit like my grandma sucking on her hard candies for comfort. I take these ginger lozenges almost every day to effectively combat the stomach upset caused by vitamin supplements. Obviously, since they are ginger, they do not cause drowsiness. My only complaint is that I wish they came in a larger pack.
Date published: 2020-04-06
Rated

5

out of

5
by
Kos
from
Works great
This is my go to Gravol. It works. I have had Ginger tablets not work got sick 4 times in the same car trip one way. This starts working in your mouth. The Ginger tablets need to go through your stomach.
Date published: 2020-02-16
Rated

5

out of

5
by
Anna
from
Deals with Nausea super fast
I usually buy the tablets but decided to try the chewable product instead. Gravel with ginger provides quick relief of nausea without the drowsiness.
Date published: 2020-11-13
Rated

5

out of

5
by
Gravol consumer
from
Great price for this essential
One of my medications causes a lot of nausea. Love this product as there is no drowsiness, I buy 6 packs at a time and the price is good.
Date published: 2023-05-19
Rated

5

out of

5
by
Jessica
from
A great non-drowsy and pleasant tasting alternative to regular Gravol. works quickly and well.
Date published: 2016-06-09
Rated

5

out of

5
by
Debra
from
Purchased these for my husband's mild occasional nausea. Non drowsy, work well and quickly.
Date published: 2015-03-03
Rated

5

out of

5
by
Manon
from
Chewable lozenges with ginger. A great idea that mixes natural taste in Gravol products.
Date published: 2019-02-27