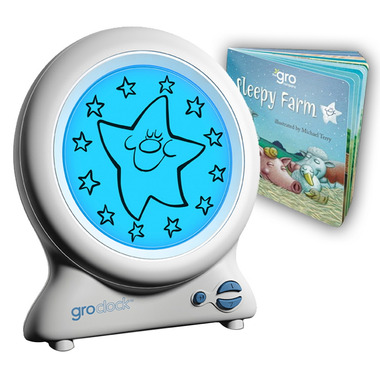 Gro clock
is rated out of
5
by
7
.
---
Description
Gro clock uses fun images of the stars and sun to communicate to kids when to go back to sleep and when it's time to get up. How do you get your children to understand when it's time to get up? Simple: "Stay in bed until you see the sun!"
Parents set the clock to display a cheerful smiley sun at progressively later times of morning, training the child to get up only once they "see the sun".
Gro clock comes with a beautifully illustrated book, which helps to encourage children to stay in bed longer.
Gro clock also comes with a Sleep Farm Book for your child to read at bedtime. Sleep Farm Book tells the story of Percy, a tired and grumpy pig, whose friends want to help him to have more fun. Illustrated by leading children's artist, Mike Terry, it has been specifically written to accompany the Gro clock and includes an important message - sleeping all night long helps everyone to be happy and full of energy.

Features:
Glowing screen shows images of stars and sun to communicate 'sleep' and 'wake-up' time
Stars go out one-by-one during the night to show the passing of time
Key-lock option
Option to set two separate wake-up times (weekday/weekend or night-time/day-time nap)
Adjustable screen brightness
Silent operation
Optional audible alarm feature
Suitable from age 2+ years
Please note: The Gro Clock must be plugged in to be operated. Power adapter included + bilingual instructions.
Highlights

Shipping & Returns
Rated

5

out of

5
by
Lesemalee
from
Works beautifully for an autistic child.
Mind you, it took a couple of years to really get her into the swing of things, but my step-daughter (8-years-old with autism) almost never gets up before the "sun" comes up. She loves putting Mr. Sun to bed and saying, "See you in the morning!" Then it's, "Star's out, time for bed!) We also use the Gro Clock reward chart, which I think is available to print from their web site. She gets a sticker each day that she stays in bed, with the goal of getting her "big treat" at the end of the week! Make sure to take it with you when you travel, unless you like being woken up at 1am!
Date published: 2020-02-03
Rated

1

out of

5
by
Sanshine
from
Poor quality
We have had this clock for just about 2 years and it has already stopped working. For the price we paid, I would have expected better quality and that it would last for multiple children. Contacting the parent company did not help. Please save your hard earned money.
Date published: 2020-09-24
Rated

4

out of

5
by
Li234
from
Great customer service by well.ca
I purchased in the summer and shortly after the time started to lag so we constantly had to reset it otherwise the clock would be behind. Didn't have much luck with the gro clock company but well.ca sent a replacement immediately once I reached out. In terms of the clock it has been effective at getting our toddler to stay in bed until "Mr Sun comes out". We do find it somewhat bright at night so sometimes we have to turn it to the side otherwise it's pretty bright in my sons face.
Date published: 2020-12-02
Rated

5

out of

5
by
Boymom01
from
Gro clock
We have had this clock for two weeks now and the first week our son was doing what any child would do. After that first week of consistency and reassuring him that everything is going to be okay this clock had made our nights so much nicer. He sleeps in his bed all night and when he wakes up and sees the clock that's blue he knows he can't get out and then when he turns orange he gets excited knowing he can come to mommy and daddy's room. We love it!!!
Date published: 2020-11-25
Rated

5

out of

5
by
Beautybomb
from
Still happy with it 4 years later
I purchased my first groclock when my son was a toddler to help with his sleep training. It was a big hit and at 5 years old we still use it for my son. My daughter who is now 3, has her own groclock as well and it works just as well for her. Both kids know they can't get up unless there is only one star or the sun is up. And my daughter loves saying goodnight to the sun every night. It is really easy to set up and it has an option for naps or weekend alarms. There is also a soft sound alarm that lasts for about 1 min as well as a backup option that can be set at a separate time too. You can lock the screen so your kids can't fiddle with it and turn it off. Just press the down button once the star is up and an x will appear on his cheek to let you know it's kid proofed, just hold the down button again until it beeps to turn this option off. I haven't found anything as simple or as useful as the groclock as a kids clock.
Date published: 2020-03-07
Rated

4

out of

5
by
Charlotte
from
I bought this for my almost 3-year-old for Christmas. She had been getting up early and going into her parents' room. Since getting the clock she stays in bed until a more appropriate time to get out.
Date published: 2020-01-02
Rated

5

out of

5
by
BStacey
from
Daughter loves it!
My 3 year old gets excited at bedtime to set her clock and always stays in her room until the Sun comes on. Easy to set up and cute book that comes with it!
Date published: 2020-05-11