Gynatrof
Gynatrof Natural Vaginal Moisturizer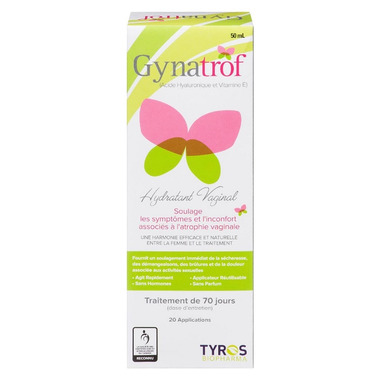 Gynatrof
Gynatrof Natural Vaginal Moisturizer
50 mL
Gynatrof Natural Vaginal Moisturizer
is rated out of
5
by
6
.
---
Description
Gynatrof is a non hormonal vaginal gel that can relieve and treat the symptoms of vaginal atrophy.
Symptoms of vaginal atrophy include:
Burning
Dryness
Itching
Painful sexual activity
Recurrent urinary tract infections
Gynatrof improves the natural hydration of the vagina and supports the regeneration of damaged vaginal tissues. It maintains tension and moisture in the perivaginal and vaginal areas and can be used to facilitate sexual activity.
By enhancing your body's natural moisture, the 4 components of Gynatrof work together to relieve the many symptoms of vaginal atrophy. It can also prevent the vaginal discomfort that can occur at any stage of your life. Gynatrof protects the skin tissue, improves lubrication and enhances regeneration of vaginal tissues.
1. Hyaluronic Acid
Protects the vaginal skin, reduces irritations and prevents itching and burning
Enhances natural lubrication and allows for normal sexual activity
Promotes healing and regeneration of damaged vaginal tissues
2. Hops Plant Extract
Provides lubrication to the vagina

Improves elasticity of vaginal skin (tone and firmness)

Relieves pain and itching
3. Liposomes
Supply long-lasting hydration to dry vaginal mucosa.

Increase elasticity
4. Vitamin E
Prevents the aging of the vaginal area
Reduces inflammation
This product is Society of Obstetricians & Gynecologists of Canada recognized.

Highlights

Shipping & Returns
Rated

5

out of

5
by
Beachgirl
from
Finally Relief!
This was recommended to me by a pharmacist. The itching and burning was driving me insane and nothing else seemed to work. I had a prescription from the doctor that had hormones in it, and it didn't seem to be doing anything for me. I have been using this for quite awhile and the bonus is you can use as often as you need to and it has no hormones. You can feel relief almost as soon as it's inserted. If you are really dry like me, you will feel a bit of a burning sensation, this is normal. I do this every two days at bedtime, it will depend on your situation. I can feel when I need to be doing more often, I feel a burning sensation and once I start the procedure it lessens after time. I am so glad I found this product,I highly recommend it!
Date published: 2021-11-24
Rated

5

out of

5
by
Fifi
from
Best on the market.
I've been using this product, on the advice of my gynecologist, for almost two years, and there has been a significant improvement in my menopausal symptoms--so much so that my gynecologist was surprised--so I never want to be without this. In fact, I can't be without it.
Date published: 2020-05-12
Rated

5

out of

5
by
andi
from
Great Product!
Absolutely has relieved me of any discomfort or pain. Will continue to use. Very good product with no needed or added harmful ingredients, simple and works.
Date published: 2020-01-22
Rated

3

out of

5
by
DLF60
from
I think this is a good product but...
Once I reached menopause, I suffered from dryness. I find a lot of lubricants cause stinging or burning. I thought this sounded like a good product and the description sounded like an answer to my problem. Unfortunately, the applicator, which also measures the dose, is uncomfortable for me . There was light irritation the first day, the second was worse and the third ached for a hour after. Why have flat rigid tip instead of a rounded soft tip?
Date published: 2022-02-10
Rated

5

out of

5
by
Lola
from
Best product for dryness
I tried another product first which was a bit more expensive. This one worked better and better price point. Yes you may have to clean the applicator but that's better for the environment.
Date published: 2022-06-22
Rated

5

out of

5
by
Lee
from
Highly recommend!
This was recommended but my doctor to help relieve peri menopausal dryness symptoms and it actually works!
Date published: 2022-02-25