HALO Innovations Bassinest Glide Sleeper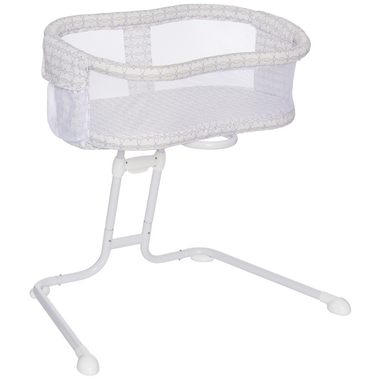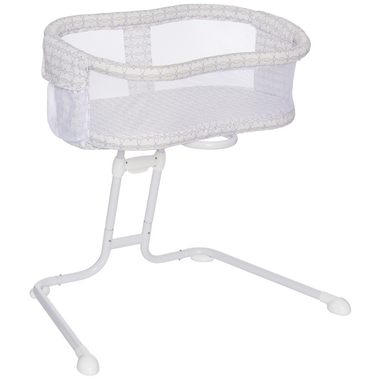 HALO Innovations Bassinest Glide Sleeper
The HALO Bassinest Glide Sleeper is the only bassinet that glides easily across any floor surface, including carpet. Now your little one can sleep as close as you like, while still safely in their own separate sleep area, reducing the risks associated with bed-sharing.
To get in and out of bed hassle-free, simply glide the bassinest away from the bed - ideal for all mothers, but especially for those recovering from C-sections. Its unique design means baby is visible at your eye level, allowing you to soothe your baby quickly, while mesh walls provide maximum breathability. In addition, its side wall lowers and automatically returns, allowing you to tend to your baby while still in bed. Its stable, height adjustable base fits next to almost any bed.

Recommended for babies up to 20 lbs, or five months of age, or whenever baby begins to show signs of pushing up to hands and knees.
Makes nursing and tending to baby from bed easy.
Lowering bedside wall allows you to tend to your baby from bed. Simply press the unlock buttons and lower with gentle pressure from your arms. Wall will automatically return to the upright locked position when pressure is removed.

Glides easily across any floor surface for ease in getting in and out of bed.
Gliding discs enable effortless gliding motion across all floor types and will not scratch or damage floors. Ideal for mother's recovery from childbirth.

Easy to see and easy to soothe.
Baby is visible at eye level for easy soothing, while mesh walls provide maximum breathability.

Stable base adjusts to fit most beds.
Adjusts from 24 to 30 inches (56 to 76 cm) tall. Its low-profile legs can fit under nightstands and beds with 2" (7 cm) clearance.

Space-saving design tucks under your bed.
Requires only 32 inches (81 cm) of clearance from wall, making it ideal for small spaces.