Hartz UltraGuard Plus Flea & Tick Home Spray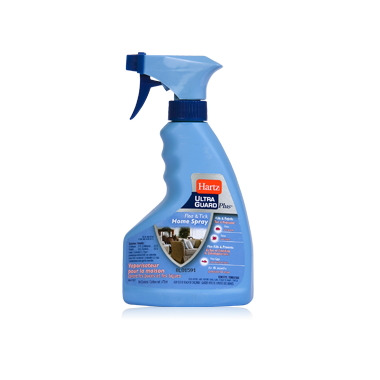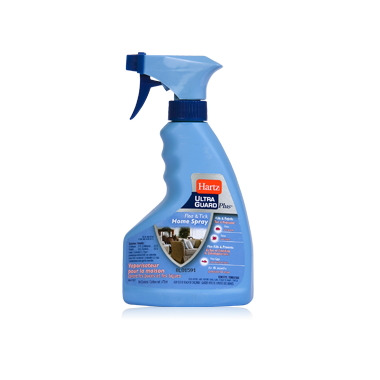 Hartz UltraGuard Plus Flea & Tick Home Spray
Hartz UltraGuard Plus Flea & Tick Home Spray protects your environment from fleas and ticks. If left untreated, fleas quickly multiply and spread throughout your home. Hartz home sprays provide complete protection and prevention of fleas and ticks on your pet beds, sofas, curtains and other surfaces of your home.

Directions for use:
SHAKE WELL BEFORE USING. Adjust the spray nozzle to create a fine mist and apply uniformly without wetting furniture and carpeting. This product is designed for use on all fabrics and carpeting, however, some natural fibres (such as wool) and synthetics may be adversely affected by any liquid product - always test a hidden area prior to use. Lighter coloured carpets may show some soiling after treatment. To help avoid soiling carpets, allow product to dry completely before walking on treated areas. One 473 mL bottle will treat approximately 18.5 square meters (200 ft.2). Do not use as a space spray. Care should be used when treating wood surfaces, as water spotting may occur. Be sure to treat pet bedding and other resting places.. No need to remove pet bedding after treatment. If pest problems persist, a second application 2 - 3 weeks after the initial treatment may be necessary. DO NOT TREAT PETS WITH THIS PRODUCT.

For effective flea and tick control, treatment of the pet should be combined with sanitation of any area used by the pet. Vacuum floors, carpets and furniture (discard vacuum bag after use) and wash the pet's bedding, living quarters and surrounding areas. If pest problems persist, an insecticidal treatment of the premises may be required. A veterinarian should be consulted when flea infestation continues to be a problem on the pet.

Cautions:
Keep out of reach of children.
HUMANS: Harmful if swallowed. Avoid contact with mouth, eyes and clothing. Wear rubber gloves when applying product. After handling or applying, wash hands (or any other skin that came into contact with the product) with soap and water. Avoid contact with pet until dry. Avoid product contact with food, food utensils or places where food is prepared or stored.
PETS: Avoid contact with pet's mouth, face and eyes. Toxic to fish and other aquatic life. Cover fish aquarium in vicinity of treatment area. Toxic to birds.

Active Ingredients: (S) Methoprene 0.10 %, Permethrin 0.25 %

Contains 1-(3-chloroallyl)-3, 5, 7-triaza-1-azoniaadamantane chloride at 0.045 % as a preservative.

Read entire label before use. For domestic use only.

DO NOT USE ON ANIMALS.