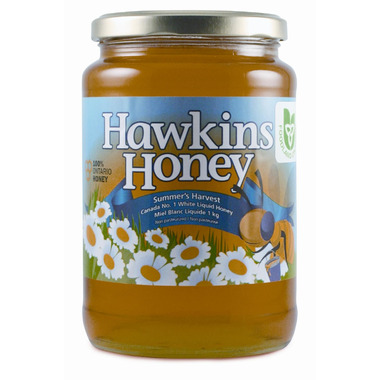 1 kg
Hawkins Honey White Liquid Honey
is rated out of
5
by
31
.
---
Description
The fragrance and taste of Summer's Harvest recalls memories of abundant blossoms in Canada's fields and woods.

Direct from the honey comb, Hawkins Honey is 100% Ontario honey. Unlike many store brands of honey which can contain blends of honey from China, Australia or Argentina, Hawkins Honey is unquestionably pure, unquestionably delicious!
Ingredients: Non-pasteurized Ontario Honey
Highlights

Shipping & Returns
Rated

5

out of

5
by
Amanpan9090
from
Love the price, glass jar and Canadian origin!
It is very hard to find honey that doesn't come in a plastic container and if you do, it costs a lot of money. Great find.
Date published: 2020-09-05
Rated

5

out of

5
by
Melissa
from
I love this honey! It's delicious and I like that it's a Canadian company. I looked into the honey quite a bit before I purchased a small jar the first time, and I was pleased to find out that this honey is raw, so it keeps more of the nutritional benefits of honey. I now buy the bigger jar and always keep my shelf stocked!
Date published: 2014-04-16
Rated

5

out of

5
by
Anna May
from
Just ordered three more big jars, pure honey like this is one of the best things for a person, mixed with cinnamon it kills germs, viruses etc. when ill I put a heaping teaspoon in a cup with cinnamon and cayenne pepper, works wonders. I love this company and their products, highly recommend to everyone.
Date published: 2013-09-28
Rated

5

out of

5
by
Elizabeth
from
Truly lovely honey. ONTARIO ONLY..that is all you really want to know, safe for us. Secondly, tastes like it is straight off the comb! Delicate yet full flavour...will be my go to from now on!
Date published: 2016-06-01
Rated

5

out of

5
by
Nancy
from
Love this honey and particularly the large jar which makes it easy to use. The small squeeze bottles are a pain, and plastic. The glass is wonderful, and the honey tasty.
Date published: 2016-06-15
Rated

5

out of

5
by
Michael
from
The Honey tastes Great, and it was a good buy when I bought it. It's made in Canada, and a good company too. Great for toppings tea and many other uses, its much better then regular sugar and good for you too. Thank you.
Date published: 2012-04-18
Rated

5

out of

5
by
Fif
from
This s a very good tasting honey. I don's want to be misleading, and it is rather a good thing for me that I can taste sourness in it too, not just sweet like a syrup. I bought multiple times, good deal when on sale.
Date published: 2016-09-14
Rated

5

out of

5
by
Bev
from
My favourite honey
Purchased this and was so pleased with both the price and the taste that i have continued to purchase it and will continue to do so. Also like that it is in a glass jar. I am also pleased to purchase Canadian honey.
Date published: 2022-08-16