Health Direct AminoSculpt Collagen Liquid Cherry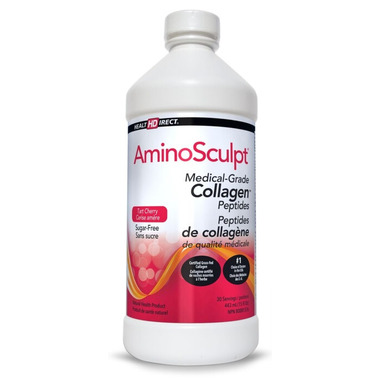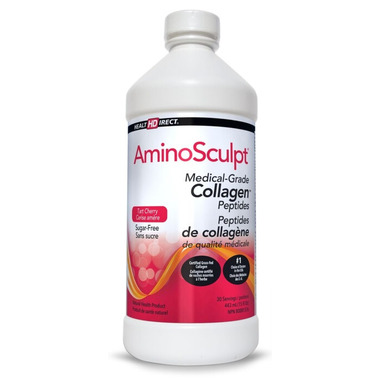 Health Direct AminoSculpt Collagen Liquid Cherry
Aminosculpt is a highly concentrated Type 1 liquid enzymedically hydrolyzed collagen protein supplement. It contains the original Medical-grade Collagen peptides used for over 35 yrs by 4,700 health professionals
Features:

Sugar Free, Soy, Gluten and Dairy free
Supports weight loss programs
Supports tissue and skin repair
Promotes lean muscle
Supports joint function and cartilage
Supports high protein nutrition and diets
Formula:

Pure Collagen: Each tablespoon contains 8 grams of readily usable amino acids from enzymatically hydrolyzed collagen protein. No other protein sources are used.
Enzymatic Hydrolysis: AminoSculpt is made from natural ingredients and enzymes (NOT acids like other collagens), so its color, taste, and thickness may vary.
Production: AminoSculpt was formulated and is manufactured in the United States in a GMP-registered facility.

Dosage: As a Dietary Supplement: Take 2 Tablespoons (1 Fl Oz / 30mL) at bedtime with 8 ounces of water (preferably on an empty stomach 2-3 hours after eating). An additional serving can be taken during the day for increased results. Best results are experienced when AminoSculpt is taken for 90 days (although most users notice certain benefits within a few weeks).

Ingredients: Natural Amino Acids from Peptides (16,000 mg)
Collagen-Specific: Hydroxyproline and Hydroxylysine
Essential: Lysine, Leucine, Valine, Threonine, Phenylalanine, Isoleucine, Methionine, and Histidine
Conditionally Essential: Glycine, Proline, Glutamic Acid, Arginine, Tyrosine, and Cystine
Non-Essential: Alanine, Aspartic Acid, and Serine

Other Ingredients: CollaPure (proprietary enzymatically hydrolyzed collagen peptides), purified water, crystalline fructose (low glycemic), citric acid, natural cherry flavor, phosphoric acid, sodium benzoate and potassium sorbate (for freshness and safety).
Contains NO: Gluten, milk, pork, soy, wheat, yeast, fish, or artificial colors, flavors, or sweeteners – and NO stimulants

Fruit enzymes used to add flavours - Cherry

Caution: Consult a doctor before taking if pregnant or nursing