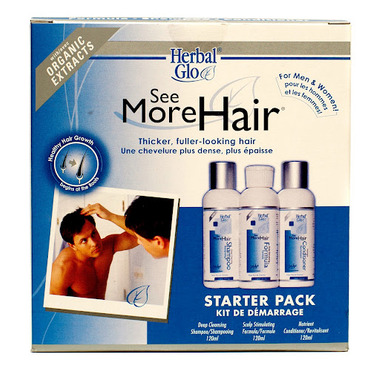 Description
​Starter Kit Includes
:
1 x Deep Cleansing Shampoo (120 ml)
1 x Scalp Stimulating Formula (120 ml)
1 x Nutrient Conditioner (120 ml)
Benefits
:
No prescription required
For all stages of hair health
No SLS, salt, colours or dyes
For men and women of all ages
Easy to use 3-step system
Increases confidence and self-esteem
Step #1: See More Hair Deep Cleansing Shampoo
More than just a surface shampoo, it prepares the scalp to receive the special nutrients from the Herbal Glo Scalp Formula
Step #2: See More Hair Nutrient Conditioner
This nourishing conditioner feeds back into your hair nutrients that add body and strength to thin, fine-looking hair.
Step #3: See More Hair Scalp Stimulating Formula
This scalp formula is a balanced topical solution of exotic botanical herbs and active hair nutrients. When massaged into the scalp, it nourishes and activates the scalp and hair roots to create the ideal environment for restoring thicker, fuller-looking hair.
Highlights

Shipping & Returns