Herbaland Gummy for Kids Multivitamins Sugar Free Formula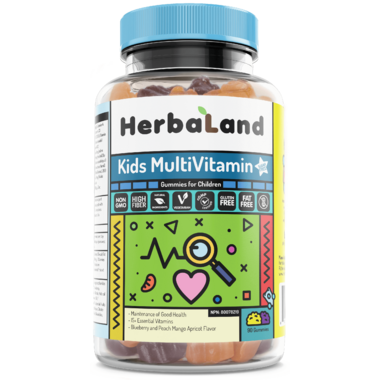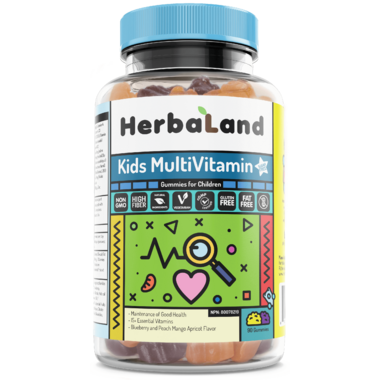 Herbaland Gummy for Kids Multivitamins Sugar Free Formula
Multivitamins gummies for kids are Herbaland's most advanced multi-vitamins and minerals formula yet with natural vitamin E from sunflowers and the most bio-available form of vitamin B12. These delicious gummies are made with our new plant based, organic and sugar-free formula!

Features:
Organic
Sugar-Free
Gluten-Free
Non-GMO
High fiber
Fat-free
CGMP Certified
Active Ingredients per 3 gummies (6.6g): Vitamin A (Vitamin A Palmitate) 604.4µg RAE (2000IU), Vitamin C (Ascorbic Acid) 30mg, Vitamin D3 (Cholecalciferol) 15µg (600IU), Vitamin E (d-Alpha Tocopherol Acetate) 13.4mg AT (20IU), Vitamin B1 (Thiamine Mononitrate) 0.05mg, Vitamin B2 (Riboflavin) 260µg, Vitamin B3 (Niacinamide) 2.5mg, Vitamin B6 (Pyridoxine Hydrochloride) 1mg, Folate(Folic Acid) 200µg, Vitamin B12 (Methylcobalamin) 67µg, Biotin 100µg, Pantothenic Acid (Calcium D-Pantothenate) 1mg, Iodine (Potassium Iodide) 100µg, Zinc (Zinc Citrate) 7.5mg, Choline (Choline Bitartrate) 19mg, Inositol 20µg,

Also contains: Organic Isomalto-oligosaccharides (VitaFiber ), Purified Water, Organic Erythritol, Pectin, Organic Fruit Powder (Strawberry, Banana), Natural Flavor (Blueberry, Peach Mango Apricot), Citric Acid, Potassium Citrate, Natural Color (Grape Juice, Beta Carotene),Organic Stevia Leaf Extract, Organic Sunflower Oil.