Herbion Cold & Flu Remedy Herbal Granules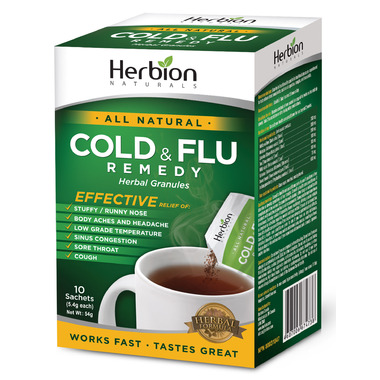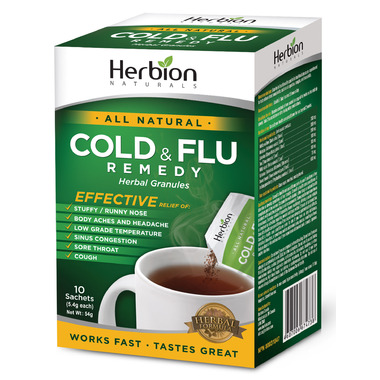 Herbion Cold & Flu Remedy Herbal Granules
Herbion Cold & Flu Remedy Herbal Granules are a natural way to provide relief of:
Stuffy / runny nose
Body aches and headache
Low Grade Temperature
Sinus Congestion
Sore throat
Cough
Contains licorice which is traditionally used in Herbal Medicine as an expectorant to help relieve chest complaints such as congestion, coughs and bronchitis.

Recommended dose: (Adults) Take 1 sachet 3 times a day.

Directions for use: Dissolve contents of one sachet in a cup of hot water or tea and sip slowly. Take 2 hours before or after other medications.

Duration of use: Consult your health care practitioner for use beyond 2 weeks.

Medicinal Ingredients: (Each sachet contains)

White willow (Salix alba, Bark) ... 750 mg
Malabar (Adhatoda vasia, Leaf) ... 300 mg
Licorice (Glycyrrhiza glabra, Root) ... 200 mg
Tea (Thea sinensis, Leaf) ... 100 mg
Wild Violet (Viola odorate, Leaf) ... 105 mg
Valerian (Valeriana Officinalis, Rhizome) ... 100 mg
Sweet fennel (Foeniculum vulgare, Fruit) ... 75 mg
Indian gooseberry (Phyllanthus emblical, Fruit) ... 400 mg
Non-medical ingredients: Cane sugar, menthol, eucalyptus oil