Himalaya Herbal Healthcare Ashwagandha
Himalaya Herbal Healthcare Ashwagandha is a herbal supplement for anti-stress and energy.
Herb functions:
Adaptogenic and antistress: Ashwagandha is an unique herb with antistress and adaptogenic action that improves physical and mental fitness and helps with daily stress management. It increases physiological endurance and inhibits chronic stress-related physiological abnormalities.
Antioxidant: It is a powerful antioxidant which scavenges free radicals in cells that are responsible for premature aging.
Anti-inflammatory: Ashwagandha has proven anti-inflammatory properties which help in the management of inflammatory joint disorders.
Indications:

General debility
As a daily health supplement to cope with stress
In the prevention and treatment of many stress-related diseases like arteriosclerosis, premature aging, arthritis, diabetes, hypertension and malignancy
As an aphrodisiac
Recommended dose:
Adults take one caplet per day before food or as directed by your physician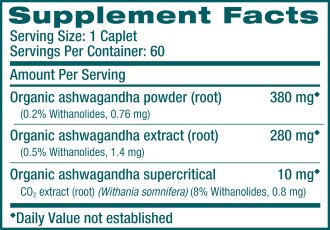 Other Himalaya Herbal Healthcare Products