Holista Restorativ Glucosamine MSM Cream
with Herbs & Essential Oils
40 g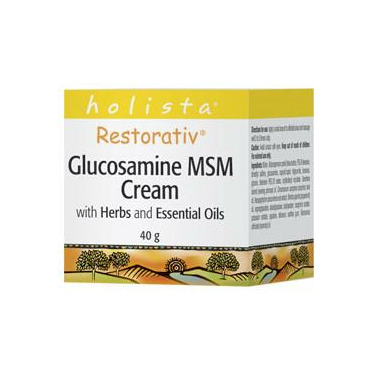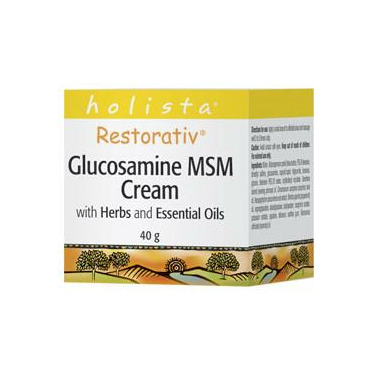 Holista Restorativ Glucosamine MSM Cream
with Herbs & Essential Oils
40 g
A natural, pain-relieving cream including Glucosamine, known to help promote joint movement, MSM and Devil's Claw for their natural anti-inflammatory benefits, and camphor and peppermint oils for soothing, pain relief. Helps relieve pain associated with arthritis, tendonitis, muscle pain and sport injury.

Cautions:
For external use only
Keep out of reach of children

Suggested Usage:
Apply a small amount to affected areas and massage well three to five times a day.

Ingredients: Camphor (Cinnamomum camphora) oil, devil's claw (harpagophytum procumbens) extract, evening primrose (Oenothera biennis) oil, frankincense (Boswellia thruifrea) oil, glucosamine sulfate, MSM (Methyl-sulfonyl-methane), peppermint (Mentha piperita) oil and rosemary (Rosamarinus officinalis) oil. Also contains: Beeswax, butylparaben, glycerin, isobutylparaben, isopropylparaben, medium chain triglycerides, octyldodecyl myristate, PEG-8 beeswax, potassium sorbate, purified water, shea butter (Butyrospermum parkii), squalane, tocopheryl acetate, tribehenin PEG-20 esters and xanthan gum.