Homeocan
Homeocan Cough & Cold Homeopathic Pellets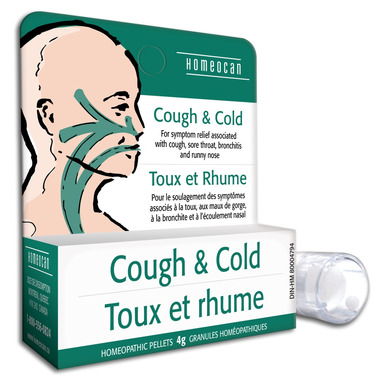 Homeocan
Homeocan Cough & Cold Homeopathic Pellets
Description
Homeocan Cough & Cold Pellets are homeopathic medicine for cough, cold, fever, aches and pains etc.

Dosage: Children (from 2 yrs.) and adults: Let dissolve 3 pellets under the tongue 3 times daily and reduce intake with improvement or as directed by a healthcare practitioner. To be taken away from meals. Acute phase: Take 3 pellets every 15-60 minutes until symptom relief begins (up to 12 times/day). Then return to general directions.

Medicinal Ingredients: Drosera rotundifolia 3X, Ipecacuanha 6X, Kali bichromicum 12X, Belladonna 4X, Pulsatilla 12X, Mercurius solubilis 30X.
Non Medicinal Ingredients: Lactose, saccharose.

Caution: Do not use if seal is broken. Do not administer to babies 0 to 2 yrs. of age. Consult a healthcare practitioner prior to use if you are pregnant or nursing or if symptoms persist or worsen after 72 hours. Keep out of reach of children. Do not exceed recommended dosage. Keep at room temperature.
Highlights

Shipping & Returns