Homeocan
Homeocan Dr. Schussler Kalium Phosphoricum 6X Tissue Salts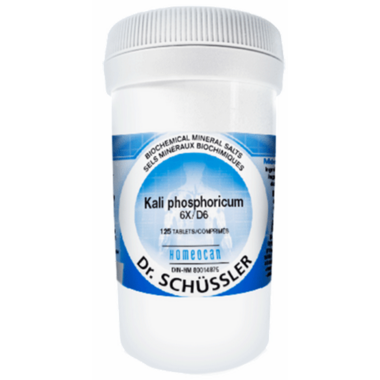 Homeocan
Homeocan Dr. Schussler Kalium Phosphoricum 6X Tissue Salts
Description
Kali Phosphoricum is a homeopathic remedy indicated in all cases of organic exhaustion and organic nervous (heavy stress). More specifically, it may improve the physical and mental strength of people weakened by illness or mental exhaustion.

Directions: Adults (and children 2 to 18 years): Chew 2 tablets, 3 times daily or as directed by a healthcare practitioner.

Medicinal ingredient: Kali phosphoricum 6X
Non-medicinal ingredients: Lactose, Magnesium stearate

Caution: Consult a healthcare practitioner if symptoms persist or worsen, prior to use if you are pregnant or nursing. Store at room temperature. Keep out of reach of children.
Highlights

Ingredients
Medicinal ingredient: Kali phosphoricum 6X Non-medicinal ingredients: Lactose, Magnesium stearate
Shipping & Returns