Homeocan
Homeocan Insomnia Homeopathic Pellets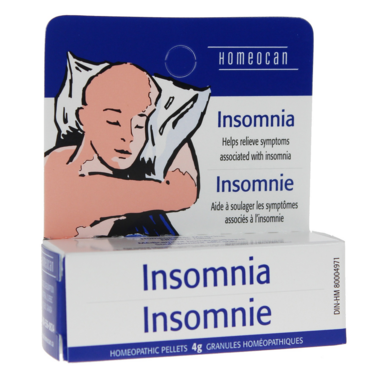 Homeocan
Homeocan Insomnia Homeopathic Pellets
Description
Homeocan Insomnia Homeopathic Pellets are sleep aid pellets that help with insomnia, sleeplessness and agitation.
Recommended Dosage: 3 pellets 3 times a day.
Ingredients: Passiflora 2x, Valeriana 2x, Avena sativa 2x, Cuprum aceticum 9x, Hyoscyamus niger 9x

Caution:
Do not use if seal is broken. Do not give to babies and children under 12 years of age. Consult a healthcare practitioner before use if you are pregnant or nursing. Consult a healthcare practitioner if symptoms persist or worsen after 72 hours. Keep out of reach of children. Do not exceed recommended dosage. Keep at room temperature.
Highlights

Ingredients
Passiflora 2x, Valeriana 2x, Avena sativa 2x, Cuprum aceticum 9x, Hyoscyamus niger 9x
Shipping & Returns