Homeocan Real Relief Cough & Cold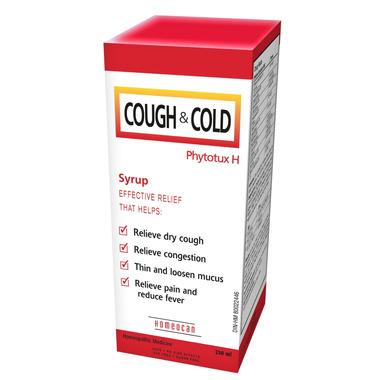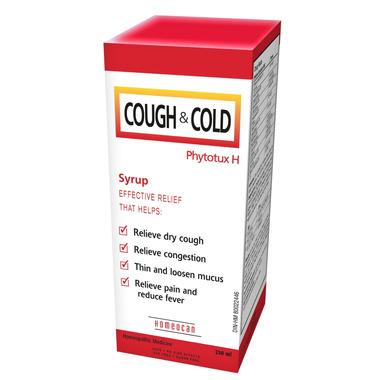 Homeocan Real Relief Cough & Cold
Homeocan Real Relief Cough & Cold is homeopathic medicine to help relieve dry cough, congestion, mucus build-up, aches and pains, fever.

Dosage: Adults: Children 0 to 6 years: 1/2 teaspoon, every 4 hours
Children 7 to 11 years: 1 teaspoon, every 4 hours. Adults (12 years and over): 1 tablespoon, every 4 hours. Reduce intake with improvement or as directed by a healthcare practitioner. To be taken away from meals.

Medicinal Ingredients: Drosera rotundifolia 1CH, Arnica montana 3CH,Bryonia alba 3CH, Ipecacuanha 3CH, Cetraria islandica 1CH, Belladonna 3CH, Coccus cacti 3CH, Corallium rubrum 3CH, Stannum metallicum 3CH.
Non Medicinal Ingredients: Purified water, sorbitol, caramel, sodium benzoate, potassium sorbate, citric acid.

Caution: Do not use if seal is broken. Consult a healthcare practitioner in cases of high fever or if symptoms worsen or persist for more than 5 days. Consult a healthcare practitioner before use if you are pregnant or nursing. Do not exceed recommended dosage. KEEP OUT OF REACH OF CHILDREN. KEEP AT ROOM TEMPERATURE.



Miranda:
more than a year ago
Felt instance relief of congestion, sore throat & runny nose as soon as I swallowed this syrup. It was pretty amazing! Only wore off when it said it would, at which point I was allowed to take more. It really allowed me to feel better when I needed to be awake to take care of my children. When I could go lie down to rest, I dozed off right away. Excellent product. Tastes really nice too!
Page
1