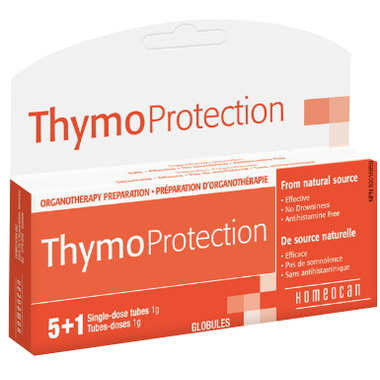 Description
Thymo Protection contains active homeopathic thymus extracts in 8X, 30X and 100X dilutions to help optimize the body's thymus gland functioning. The thymus gland is crucial for a healthy immune response, making Thymo Protection ideal for those with low or poor immune functioning. Thymo Protection helps stimulate Natural Killer cell response; prevents infectious diseases such as: cold, sinusitis, bronchitis; accelerates difficult or slow healing; relieves allergy symptoms; supports the immune system.
Features:
Effective
No drowsiness
antihistamine free
Format: 5 + 1 Single-dose tubes 1 g
Directions: Adults and children over 12 years of age: Let the contents of one single-dose tube slowly dissolve under the tongue. Take once a week (for 6 weeks) or as directed by a healthcare practitioner.

Medicinal Ingredients: Sus scrofa 8X, 30X & 100 X
Non Medicinal Ingredients: Lactose, saccharose
Warnings: Do not use if seal is broken. Keep this and all medications out of children. Do not use if you are pregnant or nursing except on the advise of a healthcare practitioner. Consult a healthcase practitioner if symptoms persist or worsen.

Highlights

Features
Effective
No drowsiness
antihistamine free
Ingredients
Medicinal Ingredients: Sus scrofa 8X, 30X & 100 X Non Medicinal Ingredients: Lactose, saccharose
Shipping & Returns