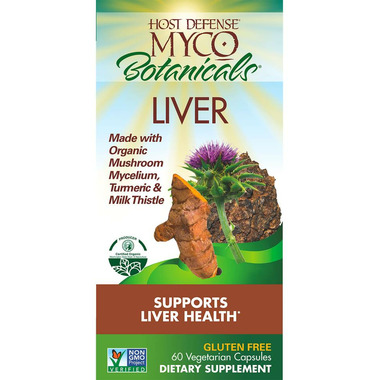 Description
The liver is the great filter and detoxifier of the body, essential for maintaining health and vitality. In order to support this workhorse of an organ, key nutrients are needed to revitalize liver function through the two major phases of detoxification. Phase I consists of clearing debris and toxins from daily life, including waste remnants from certain medications. Phase II encompasses the excretion of toxic substances, heavy metals and other end products of Phase I processes. MycoBotanicals Liver formula provides a custom combination of mushrooms and herbs to assist the optimization of liver function and health.
Ingredients: Chaga (Innonotus obliquus) Mycelium*, Mesima (Phellinus linteus) Mycelium*, Reishi (Ganoderma lucidum/resinaceum) Mycelium, Turkey Tail (Trametes versicolor) Mycelium, Turmeric (Curcuma longa) Root Whole Powdered*, Milk Thistle (Silybum marianum) Seed Hydroethanoic Extract*, Black Pepper (Piper nigrum) Fruit*, Freeze-dried Myceliated Brown Rice*, Pullulan (an Extracellular Polysaccharide), Maltodextrin*. (*Organic)
Cautions and Warnings: Consult a health care practitioner prior to use if you are pregnant or breastfeeding, if you have gallstomes or a bile duct obstruction, or if you have stomach ulcers or excess stomach acid. Consult a health care practitioner if symptoms persist or worsen.
Highlights

Ingredients
Chaga (Innonotus obliquus) Mycelium*, Mesima (Phellinus linteus) Mycelium*, Reishi (Ganoderma lucidum/resinaceum) Mycelium, Turkey Tail (Trametes versicolor) Mycelium, Turmeric (Curcuma longa) Root Whole Powdered*, Milk Thistle (Silybum marianum) Seed Hydroethanoic Extract*, Black Pepper (Piper nigrum) Fruit*, Freeze-dried Myceliated Brown Rice*, Pullulan (an Extracellular Polysaccharide), Maltodextrin*. (*Organic)
Shipping & Returns