Hydralyte Apple Blackcurrant Effervescent Tablets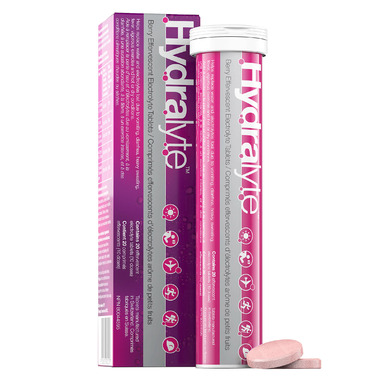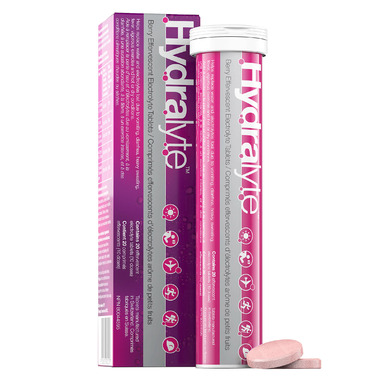 Hydralyte Apple Blackcurrant Effervescent Tablets
Hydralyte Apple Blackcurrant Effervescent Tablets helps replace water and electrolytes lost due to vomiting, diarrhea, heavy sweating, fever, vigorous exercise and hot or dry conditions. Convenient, compact and highly portable Hydralyte effervescent tablets are perfect for travel and on the go. Be prepared to manage dehydration with Hydralyte Electrolyte tablets.
Benefits:
Dairy Free
Gluten Free
Peanut Free
Tree Nut Free
Ingredients:
Sodium Chloride, Potassium Chloride, Sodium Bicarbonate, Citric Acid Anhydrous, Glucose Anhydrous, natural flavour, sucralose.
Directions:
Recommended Dosage in first 6 hours:
Age in years
Under 12 month 200-400ml
1-3 years 400-600ml
3-6 years 600-900ml
6-12 years 900-1500ml
Over 12 1200-2000ml
Cautions:
Seek medical advice if diarrhoea persists for more than:
- 6 hours in infants under 6 months
- 12 hours in children under 3 years
- 24 hours in children aged 3–6 years
- 48 hours for adults and children aged over 6 years
Store in a cool dry place below 30°C
Be aware that dehydration due to vomiting or diarrhoea can be dangerous in babies and children under 5 years old and in elderly people.
Use only as directed
Contains 0.78 mg/mL potassium. If you have kidney disease or are taking heart or blood pressure medicines – consult your doctor before use.
Keep out of reach of children.
Contains 1.38 mg/mL sodium. Quantity of sodium per maximum adult daily dose is 5520 mg.
Contains sugars
Do not use if cap seal is broken. Replace cap tightly after use. Refer to base of tube for batch # and expiry date.
Coreen:
about a week ago
I love this product. I have had my colon removed so I am very prone to dehydration. I drink it everyday, throughout the day and if I don't, I feel unwell. If I don't look after my hydration, I get headaches, muscle cramps and have no energy. I still love my coffee and the occasional beer. Since these products dehydrate, I drink Hydralyte when I drink alcohol or coffee and I don't suffer the negative effects. If you drink a few glasses of hydralyte after a night of drinking, you will not have near the hangover effects. Of course for flu situations, you will feel so much better drinking Hydralye. I used to use Gatorade. Gatorade was about the worst thing for me as all the sugar in it pulls the water into your gut and ends up flushing more water out instead of hydrating you. This product should be pushed more by health professionals but the awareness is low among these professionals. Add it to your tool kit!
1