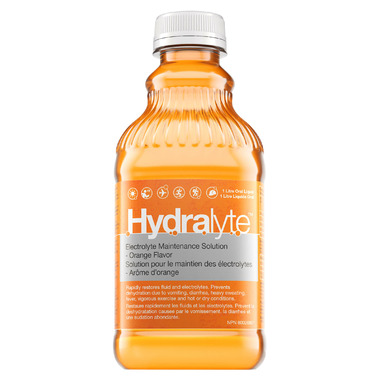 Description
Hydralyte Electrolyte Drink is suitable for the entire family. Rehydrates faster than water, rapidly restoring fluid and electrolytes.
Recommended Dosage:
Fever, exercise, and heat. Drink Hydralyte when thirsty or exhibiting signs of dehydration.
Active Ingredients: Sodium Chloride, Potassium Citrate, Citric Acid, Glucose.
Non-medicinal Ingredients: Purified Water, Sodium Benzoate, Potassium Sorbate, Surcalose, Natural Flavour, Yellow 6.
Warning and Cautions: Consult your physicians if: vomiting, diarrhea or fever persist for longer then 24 hours; if child is under 2 years; you have medical problems relating to kidney, heart or gastrointestinal function, blood pressure, or show show signs if severe dehydration including shock, or are unable to drink.
Should you require consultation with a pharmacist, you may
contact our Well.ca Pharmacist.
Please read the label, warnings and inserts provided by the manufacturer and consult your healthcare professional when purchasing medications or natural health products to be sure the product is right for you.
Shipping & Returns
Unfortunately, due to the nature of this item, we cannot accept any returns.
We are only able to ship this item to Canadian customers.
This item cannot be shipped to Quebec due to provincial pharmacy regulations.
Click here for more information