hydraSense Daily Nasal Care Gentle Mist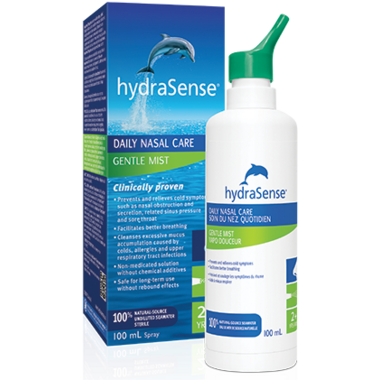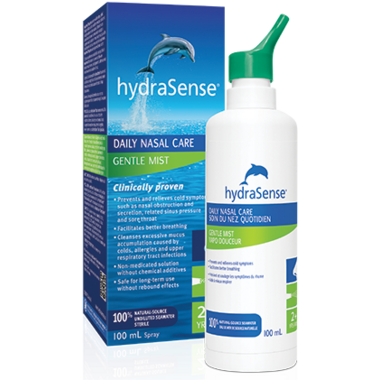 hydraSense Daily Nasal Care Gentle Mist
hydraSense Daily Nasal Care Gentle Mist nasal spray is designed for sensitive noses and first-time users who are experiencing seasonal or year-round allergies or a cold. It can also be used when the air is dry due to air conditioning or heating and you simply want to breathe better.
Features:
Cleanses excessive mucus accumulation in congested nasal cavities and passages.
Reduces excessive dryness due to dust or dry air.
Reduces the duration of cold symptoms, the occurrence of complications such as sinusitis, medication use and the number of sick days

Formulation: Isotonic, undiluted, sterile, 100% natural-source desalinated sea water, with more than 70 trace elements and minerals naturally-occurring in sea water. Does not contain preservatives.
Dosage: Gently apply hydraSense® at least twice a day (morning and evening), and 4 to 6 times a day when cold or allergy symptoms are present.
For 2 years of age and older.

Donna:
a few months ago
I love this product. My nose is always "stuffy" at night time, so I use this product and I can breathe way better during the night. I don't wake up because of the stuffiness anymore. I highly recommend this to anyone who has allergies or just the feeling of my nose being dry and stuffy
Julie:
more than a year ago
I use this product daily during flu season as a prevention tool. Keep everything clean and seems very effective. I also use it to help with allergies as needed. When you do have convection, use this saline spray is extremely effective to help give you relief, takes a few minutes after you use it and then you get the results. I really find it is a good value for the effectiveness of the product.
Page
1