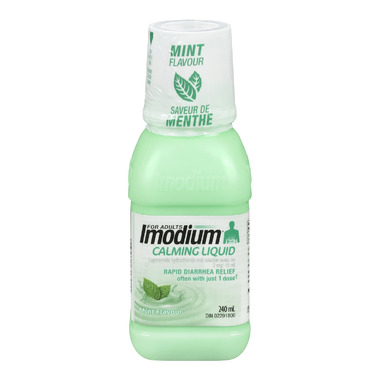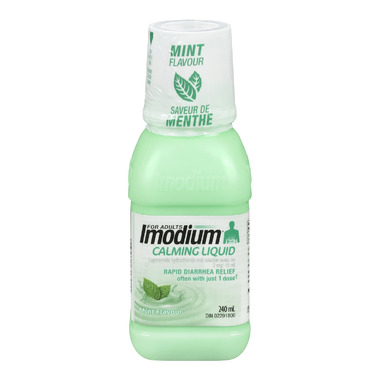 IMODIUM Calming Liquid is gentle on your stomach yet provides fast, effective relief of diarrhea. This calming option for relief is suitable for all bouts of diarrhea.
Benefits:
Calming, soothing diarrhea relief that is effective, yet gentle on your stomach
Suitable for all bouts of diarrhea
Usage:
For fast and effective relief from diarrhea. Often relives diarrhea in just one dose. (Clinical studies indicate that diarrheal control may be achieved after the initial dose in 50% of patients.)
Dosage for Adults and Children 12+:
Shake well before use. Use only attached dosage cup to dose product. Take 30 mL initially and 15 mL every time you have a loose bowel movement, to a maximum of 120 mL per day. Do not exceed the recommended dose. Stop use if you have a solid or hard stool or if you go for 24 hours without a bowel movement. IMODIUM is not recommended for children under 12 years of age except on the advice of a doctor.
Active Ingredient:
Each 15 mL dose contains 2 mg loperamide hydrochloride
Nonmedicinal Ingredients (alphabetical):
Carboxymethylcellulose sodium, cellulose, citric acid, D&C yellow no. 10, dimethyl siloxane, FD&C blue no.1, flavour, glycerin, methylcellulose, propylene glycol, purified water, simethicone, sodium benzoate, sorbic acid, sucralose, titanium dioxide, xanthan gum.