Inari
Inari Organic Hulled Millet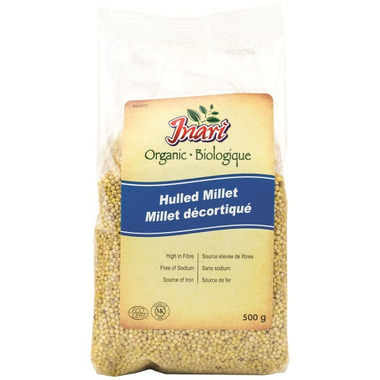 Inari
Inari Organic Hulled Millet
500 g
Inari Organic Hulled Millet
is rated out of
5
by
21
.
---
Description
Organic millet (hulled) is a mild, digestible grain. It's creamy in colour, round and small -- about one third the size of a peppercorn. It is a complete protein that's rich in lecithin and calcium and it's high in fiber.

Features:

Certified Organic
NON GMO
Kosher
Free of Sodium
Source of Fibre, Iron, and Magnesium
Cooking Directions: Bring to boil 1 1/2 parts of water for 1 part of Millet. Add sprinkle of salt, 1 tsp of organic oil. Reduce heat cover and simmer for 20 minutes. Let stand 10 minutes before serving.
Ingredients: Hulled Millet
Highlights

Shipping & Returns
Rated

5

out of

5
by
Jazmine
from
Delicious! I'm so glad to have found another wonderful grain option for our gluten-/salicylate-/amine-free diet. It works with some sweetener as a breakfast cereal and as a side for other meals. I haven't been able to find whole-grain millet anywhere else other than here yet.
Date published: 2013-10-10
Rated

5

out of

5
by
Susannah
from
This cereal grain makes a nice change from oatmeal, which I can't eat anymore. Easily cooked (although it takes longer than oatmeal), and it can be kept refrigerated for a couple of days too. For anyone with wheat intolerance, this makes an excellent substitute for oatmeal (which is related to wheat and also on the no-no list for those who can't eat wheat.
Date published: 2012-12-19
Rated

5

out of

5
by
Lu
from
Please continue to keep the standard high!
Truly enjoyable and fresh, this millet has a good expiry date and seems to have been stored in a cool place before shipping. This is best for quality control! Many thanks!
Date published: 2022-07-03
Rated

4

out of

5
by
Judit
from
Good product but the package is not suited for hot weather. The heat unsealed the package and the millet got all over the box containing my order.
Date published: 2012-07-29
Rated

5

out of

5
by
Erin
from
It keeps in the fridge for up to week and I eat it cold with soy or almond milk, fruit and cinnamon for breakfast. Good alternative to oats.
Date published: 2012-04-18
Rated

5

out of

5
by
Gisele
from
I love this product. You can use it instead of rice or use it as a breakfast cereal in the morning. Great product.
Date published: 2011-08-31
Rated

5

out of

5
by
Kim
from
First time trying millet. Made it for my baby and mixed it with fruit puree. Baby gobble it up!
Date published: 2012-04-23
Rated

5

out of

5
by
S
from
Pretty good stuff. I've made it like rice, and also used it in some vegan muffins.
Date published: 2011-04-13