Inari
Inari Organic Whole Wheat Couscous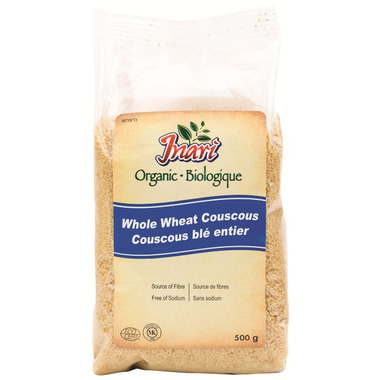 Inari
Inari Organic Whole Wheat Couscous
Description
Organic whole wheat couscous is made with whole grain durum wheat flour, so it retains the bran and germ of wheat. It cooks just as quickly as the regular variety of couscous and has a rich nutty flavour.
Whole wheat couscous may serve as a replacement for pasta or rice as a side dish or in recipes, taking on the flavours of whatever you cook it with.
Features:
Certified Organic
Non GMO
Kosher
Source of Fibre
Free of Sodium
Cooking Directions:
Pour couscous into a saucepan. Add an equal volume of boiling salted water and stir. Cover and let sit for 5 minutes. Add 1 tsp. of butter or olive oil. Fluff gently with a fork and serve.
Ingredients: Whole Wheat Couscous
This product contains wheat.


Highlights

Shipping & Returns