inGenuity Boutique Collection Smart Clean Chairmate Bella Teddy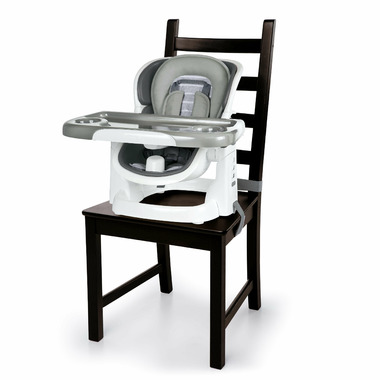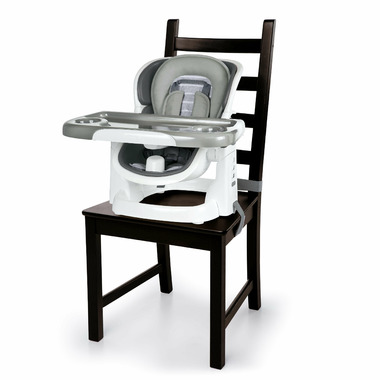 inGenuity Boutique Collection Smart Clean Chairmate Bella Teddy
The Ingenuity SmartClean ChairMate High Chair™ has all the conveniences of full-sized high chair in a space-saving design. This amazing high chair saves space by attaching securely to most dining chairs with adjustable straps.
The luxury is in the details of the padded fabric bolster seat and safety harness strap-covers for added support and comfort. The neutral color fashion is perfect for a boy or a girl and is sure to compliment the décor of most homes. Ingenuity™ understands things get a little messy. The EasyClean™ tray insert and tray are dishwasher-safe, as are the plastic foam cushion seat pads. The padded fabric bolster seat, harness strap covers, and 5-point safety harness straps are easy to remove and toss in the washing machine.
Keep your growing baby comfortable with two recline positions and four height positions. The adjustable and removable SmartLevel Tray™ remains level even when the seat is reclined. Baby will be able to use this chair for years since it converts easily to a booster seat during the toddler years by removing the tray and upper seat support.
Features
:
All the conveniences of full-sized high chair in a space-saving design
Features premium padded support and comfort, all wrapped up in a modern and stylish design
Securely attaches to most dining chairs with adjustable straps
Durable plastic foam cushion seat pads, fabric bolster seat seat, tray, tray insert, as well as, other plastic seat components are easy to wipe clean
The padded fabric bolster seat, harness strap covers, and 5-point safety harness straps are easy to remove and toss in the washing machine
EasyClean™ tray insert and tray are dishwasher-safe, as are the plastic foam cushion seat pads
Built-in cup holders for holding drinks or snacks
SmartLevel Tray™ remains level even when the seat is reclined
Seat adjusts to 2 recline positions and 4 height positions
Safety-enhanced with 5 point safety harness
Care & Maintenance:
Fabric bolster seat, straps, and strap covers are machine washable

Foam seat pads, tray and tray insert are dishwasher safe