INTIMINA Lily Cup One- Menstrual Cup for Beginners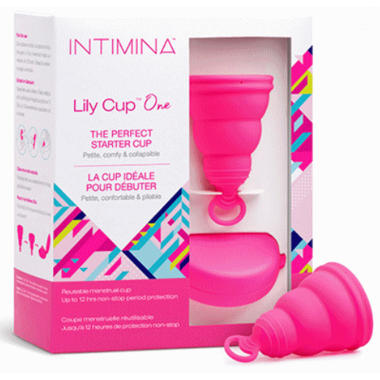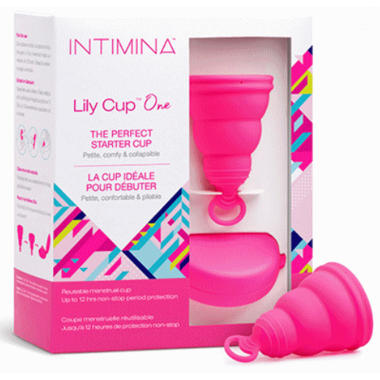 INTIMINA Lily Cup One- Menstrual Cup for Beginners
The Collapsible Menstrual Cup for Beginners

Lily Cup One is the most comfortable and easiest to use menstrual cup for newbies and teens! Its petite shape, leak-proof double rim, and removal loop make periods a breeze from start to finish. It even collapses into a carry case the size of a lip balm. Made of ultra-smooth FDA-approved and BPA-free silicone, you wont feel a thing while it collects your menstrual flow for up to 12 hours of Eco-friendly protection.
Product Features:

THE PERFECT STARTER UP - Lily Cup One offers teens and beginners an easy transition into the world of menstrual cups. Its petite shape, leak-proof double rim, easy removal loop and collapsible design make periods a breeze from start to finish.

BEGINNER-FRIENDLY DESIGN - Lily Cup One features a firmer leak-proof rim thatՒs easy to open and a removal ring for worry-free removal. Its smaller in size but still high capacity for protection you can count on.

ANY TIME PROTECTION Lily Cup One is a reusable menstrual cup that you can use for up to 10 years֖ just wash it after use and carry it its convenient case for protection whenever you need it most.

ITՒS TIME TO SWITCH - Made from FDA approved medical-grade silicone, Lily Cup One is BPA-free and phthalate-free, hypoallergenic and contains no harmful chemicals or bleaches. It collects flow rather than absorbing it, so theres no dryness or irritation.

WALLET & EARTH FRIENDLY Be kind to environment and your wallet at the same time. Stop throwing money away with your tampons and pads each month. One cup can last for years ֖ reducing waste and saving you money.
Directions of Use: Wash your hands before using your Lily Cup. Submerge cup in boiling water for 5-8 min before first use. Fold cup by pushing the front rim of the cup down and in. Angle your cup towards your tailbone and insert it upwards until the ring is inside. Gently squeeze the base of the cup then rotate slightly to create seal. Wear for up to 12 hours and empty 2-3 times per 24 hour period. To remove, sit in a squatting position and bear down. Then grip the removal ring and slowly pull downwards. Squeeze the base to release the seal and pull the stem downwards. Empty fluid into the toilet and wash the cup, reinsert.

Cautions:

Lily Cup One is not a contraceptive and does not protect against sexually transmitted diseases. Remove your Lily Cup One before sexual intercourse.

Discontinue use and contact a medical practitioner if you experience any pain or discomfort while using the Lily Cup One. If you have had TSS you should not use a menstrual cup.
Material: Made from FDA approved & BPA- free medical-grade silicone. Hypoallergenic.