IronKids
IronKids Gummies Omega-3's for Smart Kids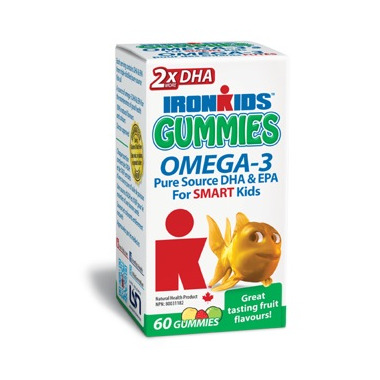 IronKids
IronKids Gummies Omega-3's for Smart Kids
60 Count
IronKids Gummies Omega-3's for Smart Kids
is rated out of
5
by
52
.
---
Description
Ironkids Gummies with Omega-3's for Smart Kids are specially formulated with DHA and EPA, essential Omega 3 fatty acids that are needed for the optimum development of a child's brain and nervous system as well as the maintenance of proper brain function. IronKids Gummies Omega-3's for Smart Kids are made with only natural flavors and natural colors.

Directions: Children 2 to 4 years of age - chew 2 gummies daily Adults and children 4 years of age and older - chew 3 gummies daily.
Medicinal Ingredients:
Fish Oils 90 mg, Omega-3 Fatty Acids 25 mg, Docosahexanoic Acid (DHA) 20 mg, Eicosapentaenoic Acid (EPA) 5 mg

Non Medicinal Ingredients: Glucose syrup, gelatin, sugar, water, citric acid, natural flavors (orange/peach, strawberry/banana, green apple), natural colors (annatto, black carrot), vegetable oil (coconut source), carnauba wax.

This product contains: fish oil (tuna), soybean oil.

*IRONKIDS are fully licensed Natural Health Products in Canada*
Highlights

Shipping & Returns
Rated

5

out of

5
by
MommaGummy
from
My son has sensory issues and as a result can not tolerate just about every food and vitamin on the planet. This is the first vitamin he could actually take. I tried them myself and they do NOT taste like fish at all. They are just like gummy bear candies.
Date published: 2009-04-12
Rated

4

out of

5
by
Kirstin
from
I love this product. I don't like fish, so I don't cook it very often at home. I take fish oil supplements for myself, but was looking for something so that my two year old could get her dose of omega-3's too. She loves these gummies. They are easy enough for her to chew and she likes the different coulors. Great product! I only wish they could make a product for young kids that was more concentrated or has less sugar as I don't really like giving her 4 gummies per day as that's a lot of sugar along with the goodness of fish oil.
Date published: 2013-10-11
Rated

5

out of

5
by
charlotte
from
These taste the best of any kids supplement/vitamin we've tried. I'm delighted that they contain no artificial colours or flavours and the only issue I have is that they dont last too long as recommended dose is at least 2 or 3 per day per kid and i popped a few here and there too as they are so yummy! ! So a larger pack would work better for my family! But the product itself is fantastic!
Date published: 2012-07-29
Rated

3

out of

5
by
Happy baby
from
Description on the site says take 2 daily but on the bottle it says take 4 daily
This is the first gummy supplement I give to my 2yo and I'm glad he likes them. However, I chose this brand over the others mainly because it says take 2 gummies daily. After I received the item and I double checked the usage directions on the bottle it says take 4 gummies daily. This means more sugar intake for my LO and costing more money
Date published: 2021-03-13
Rated

5

out of

5
by
Burnie
from
I love this product and I will continue to order it from well.ca.. I haven't found it anywhere else. My kids really like it very much and I see an improvement in their school work....Thank you for such a wonderful product...
Date published: 2011-06-27
Rated

5

out of

5
by
Erin
from
I love these and my kids do too. So much easier to give than to try giving my kids the liquid fish oil. The kids think they are gummy treats, which is good in a way that I am not having to fight with them to eat them. I also like and appreciate that this product is nut-free since one of my children has a severe nut allergy. And its also a Canadian product. Great product all round!
Date published: 2013-07-19
Rated

5

out of

5
by
Happy mom!
from
Finally an Omega product that the boys actually ask for!! Ages 1.5 & 3.5! They just LOVE these! :) We buy all the IronKids products & they love them all! :) Another Omega product for kids the boys won't even look at - now I know why - I tried them! They're horrible! THESE are AWESOME tasting! :)
Date published: 2010-08-31
Rated

4

out of

5
by
Alison
from
My child really likes this product. It has the nutrients I need in it. However, she needs to take 4 a day and that uses up the product quickly. In all, I am happy with it, trust it and my child likes the taste and that is very important in a vitamin or mineral in my home.
Date published: 2012-02-28