Jamieson 100% Complete Prenatal Chewable
Cranberry Apple Flavour
30 Vegetarian Capsules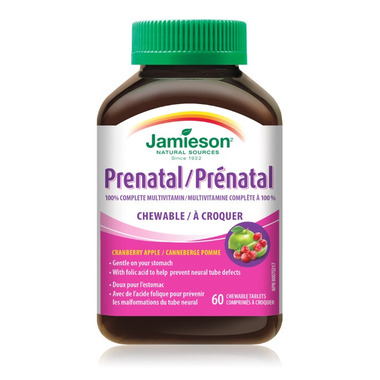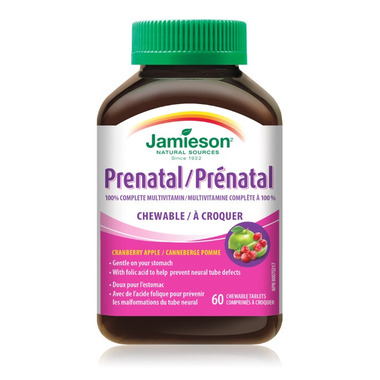 Jamieson 100% Complete Prenatal Chewable
Cranberry Apple Flavour
30 Vegetarian Capsules
The first chewable prenatal vitamin in Canada that is 100% complete with just one pill per day! Enriched with iron and folic acid to ensure expecting and nursing mothers are getting the essential nutrients they need for their baby's optimal brain development and overall health.
Features:
Helps pregnant women meet the recommended intake for iron when taken in conjunction with a healthy diet
Helps normal growth of baby
For those who find other prenatal supplements difficult to swallow or hard to keep down
Gentle on the stomach
Essential nutrients for mom and baby
Folic Acid helps prevent the risk of neural tube defects
Essential minerals for mom: 16 mg Iron and Iodine
100% vitamin RDA
Easy to take, delicious Cranberry Apple chewable tablet
Directions:
Take
1 tablet daily with food.
Ingredients:
Vitamin A (Acetate) 1050 mcg RAE
Beta-Carotene 1500 mcg
Vitamin B1 (Thiamine mononitrate) 14 mg
Vitamin B2 (Riboflavin) 16 mg
Vitamin B3 (Niacinamide) 18 mg
Pantothenic Acid (Calcium d-pantothenate) 7 mg
Vitamin B6 (Pyridoxine hydrochloride) 5 mg
Vitamin B12 (Cyanocobalamin) 28 mcg
Vitamin C (Ascorbic acid) 120 mg
Vitamin D3 (Cholecalciferol) 15 mcg/600 IU
Vitamin E (d-alpha tocopheryl acetate) 19 mg AT/28 IU
Vitamin K1 90 mcg
Biotin 35 mcg
Folate (Folic acid) 1000 mcg
Calcium (Tricalcium phosphate) 150 mg
Chromium (Amino acid chelate) 30 mcg
Copper (Citrate) 1000 mcg
Iodine (Potassium iodide) 220 mcg
Iron (Saccharated Iron Oxide) 16 mg
Magnesium (Oxide) 50 mg
Manganese (Citrate) 2 mg
Molybdenum (Citrate) 50 mcg
Selenium (Amino acid chelate) 60 mcg
Zinc (Oxide) 75 mg
Caution:
Keep out of the reach of children. There is enough drug (iron) in this package to seriously harm a child.Consult a health care practitioner prior to use if you are taking blood thinners.
Dextrose, mannitol, vegetable stearic acid, natural flavours (cranberry, apple), natural flavour enhancer, silica, maltodextrin, gum acacia, vegetable juice, citric acid, malic acid, lactic acid, sucralose.