Jamieson B12 Fast Dissolve
5,000 mcg
45 Sublingual Tablets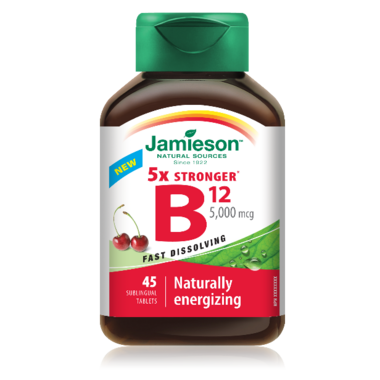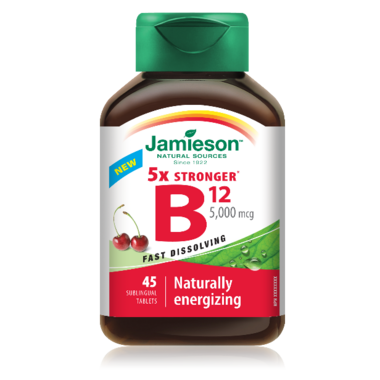 Jamieson B12 Fast Dissolve
5,000 mcg
45 Sublingual Tablets
Jamieson B12 5,000 is a high potency dose of B12 that provides natural energy through a fast dissolving, easy to absorb fast-melt tablet with a delicious cherry flavour.
Features:
Help support energy metabolism by helping the body to metabolize carbohydrates, fats and proteins
Fast dissolve tablet
Directions:
Take one tablet daily on or under tongue.
Ingredients:
5000 mcg Vitamin B12 (Methylcobalamin) Also contains: Mannitol, cellulose, calcium silicate, sodium sulfate, polyvinylpolypyrrolidone, natural cherry
flavour, silica, vegetable magnesium stearate, citric acid, stevia
Sugar Free, Gluten Free, Dairy Free





Eitan:
more than a year ago
It's not advertised as such, but the bottle does indeed state that this product is vegetarian. I would even venture to guess that this is vegan, but they can't write that for legal reasons.

These pills are small, around 6-7mm in diameter, and you push them as far back underneath your tongue as you can and you let your salivary glands do the work, as they slowly release saliva which helps to dissolve the pill.

The better you can control your glands - that is to say - the slower they leach saliva, the better. B12 is absorbed optimally this way. Whatever is swallowed is wasted.

Out of all the brands, so far the only one I've seen that has crospovidone (which helps the tablet to dissolve faster) is Jamieson. So you don't have to sit there for more than 5 minutes to wait for it to dissolve.

For that, this product gets 5/5.
Page
1