Jamieson Calcium + D Gummies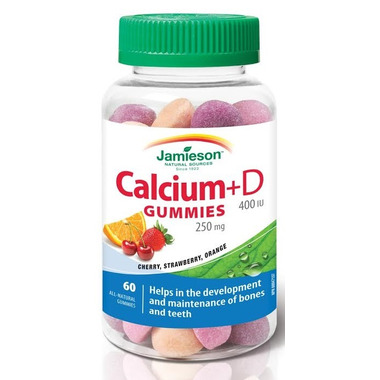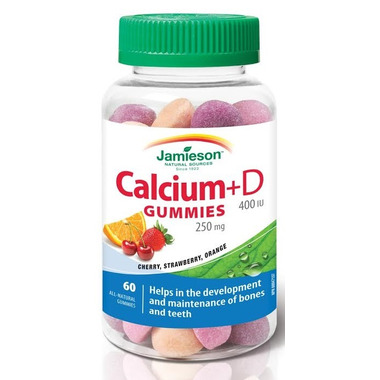 Jamieson Calcium + D Gummies
Jamieson Calcium + D gummies deliver 500 mg of calcium and 800 IU of vitamin D3 per serving, the same form of vitamin D that the body naturally produces in sunlight. These great-tasting all-natural cherry, strawberry and orange flavoured gummies are free of aspartame, artificial colours and artificial flavours.
Benefits:
Calcium intake, when combined with sufficient Vitamin D, a healthy diet and regular exercise may reduce the risk of developing osteoporosis
Helps in the development and maintenance of bones and teeth
A factor in the maintenance of good health
Helps in the absorption and use of calcium and phosphorus
Helps the body to metabolize carbohydrates, fats and proteins

Each Gummy Contains:
Calcium (Tricalcium phosphate) 250 mg
Vitamin D (Cholecalciferol) 10 mcg/400 IU
Phosphorus (Tricalcium phosphate) 115 mg
Also Contains:
Pectin, glucose syrup, sugar, citric acid, fumaric acid, natural flavours (strawberry, orange, cherry), natural colours (black carrot juice concentrate, berry concentrate, annatto), sodium citrate.
No aspartame, salt, starch, gluten, artificial flavours or colours.
Adults:
Chew 2 gummies daily. Store between 15°C and 25°C, away from children.
Warnings:
None known when taken as directed.