Jamieson Chewable Probiotic
Strawberry Yogurt Flavour
60 Tablets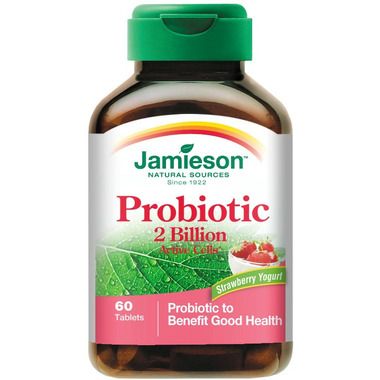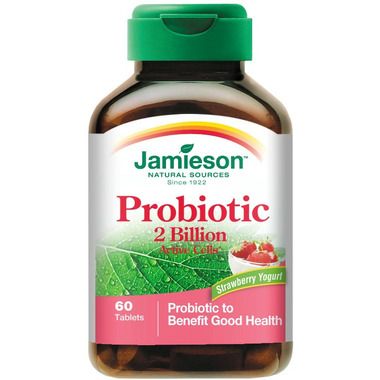 Jamieson Chewable Probiotic
Strawberry Yogurt Flavour
60 Tablets
- We're sorry, this product is no longer available!
- Shop for other products in: Probiotics

​Each chewable tablet is formulated to contain a minimum of two billion active cells guaranteed until expiry. The active cells are provided by a combination of five probiotic cultures including: Lactobacillus acidophilus, Lactobacillus rhamnosus, Lactobacillus salivarius, Bifidobacterium lactis and Lactobacillus paracasei. As an added benefit, Jamieson's Chewable Probiotic tablets are shelf-stable, which means they don't require refrigeration and are perfect for travel.

Benefits:

Balances intestinal flora for the maintenance of good health
Helps prevent antibiotic-induced and traveller's diarrhea
Directions:
Children 2 years to adolescents 18 years: Chew 1 tablet daily with a meal. Adults: Chew 2 tablets daily with a meal. Store between 15ºC-25ºC, away from children. No refrigeration required
Probiotic blend 2 billion CFU (colony-forming units) at time of expiry, consisting of:
Lactobacillus acidophilus (NX-5864) ... 7.0 x 108 CFU
Lactobacillus rhamnosus (NX-5839) ... 7.0 x 108 CFU
Lactobacillus salivarius (NX-5863) ... 4.0 x 108 CFU
Bifidobacterium lactis (NX-5840) ... 1.0 x 108 CFU
Lactobacillus paracasei (NX-5850) ... 1.0 x 108 CFU
Also contains:
Lactitol, Inulin, Cellulose, Dextrose, Fructose, Vegetable Stearic Acid, Citric Acid, Natural Flavours (Strawberry and Vanilla), Guar Gum, Sucralose.
Drug Interactions:
None known when taken as directed.
Nutrient Depletions:
Antibiotics — probiotics protect against diarrhea caused by antibiotics.
Supportive Interactions:
Anti-acne drugs (helps promote healthy bacteria), anti-ulcer drugs, penicillins (anti-infectives) – reduce frequency of diarrhea.
Warnings and Precautions:
Discontinue use and consult a health care practitioner if symptoms of digestive upset (e.g. diarrhea) occur, worsen, or persist beyond 3 days. Do not use if you are experiencing nausea, fever, vomiting, bloody diarrhea or severe abdominal pain. Do not use if have an immunecompromised condition (e.g. AIDS, lymphoma, patients undergoing long-term corticosteroid treatment). This product has come into contact with milk. Do not use if you have a milk allergy.
Toxicity, Adverse Warnings and Side Effects:
Do not exceed recommended dosage. Large quantities may cause diarrhea or other gastrointestinal side effects.
Please be advised that Well.ca follows manufacturer guidelines for storing & shipping probiotics.