Jamieson
Jamieson Chewable Vitamin B Complex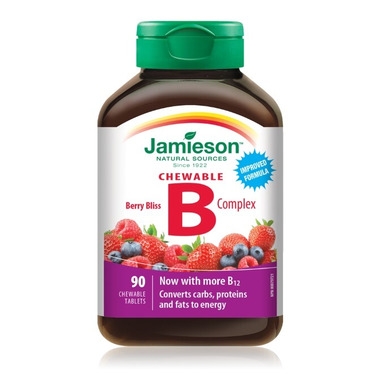 Jamieson
Jamieson Chewable Vitamin B Complex
Berry Bliss
90 Tablets
Jamieson Chewable Vitamin B Complex
is rated out of
5
by
41
.
---
Description
Canada's first chewable Vitamin B complex!Ideal for anyone who doesn't like to swallow pills, this irresistible berry-flavoured chewable tablet delivers your essential daily B Vitamins. You won't find a tastier way to boost your energy, maintain healthy nerves, ease stress and maintain heart health.

Benefits:
Aids in the metabolism of carbohydrates, fats and proteins for energy production
Essential for maintaining healthy nerves and liver
Anti-homocysteine complex supports cardiovascular health
Assists in the formation of red blood cells
Helps prevent neural tube birth defects
Eases stress and anxiety
Helps maintain a healthy immune system
Ingredients:
Vitamin B1 (Thiamine Mononitrate) 5 mg
Vitamin B2 (Riboflavin) 5 mg
Vitamin B3 (Niacinamide) 8 mg
Vitamin B5 (Calcium d-Pantothenate) 5 mg
Vitamin B6 (Pyridoxine HCl) 5 mg
Vitamin B12 (Cyanocobalamin) 500 mcg
Biotin 25 mcg
Choline (Bitartrate) 5 mg
Folate (Folic Acid) 200 mcg


Also contains:Dextrose, Cellulose, Dicalcium Phosphate, Mannitol, Citric Acid, Natural Colours (Bilberry Fruit, Vegetable Juice), Natural Flavours (Strawberry, Blueberry, Raspberry, Vanilla), Maltodextrin, Natural Flavour Enhancer, Lactic Acid, Vegetable Stearic Acid, Potassium Bitartrate, Sorbitol, Fructose, Vegetable Magnesium Stearate, Silica, Sucralose, Gum Acacia.

Dosage: 25 mg
Highlights

Shipping & Returns
Rated

5

out of

5
by
Trevor
from
THIS PRODUCT HELPS MY STRESS LEVELS SO MUCH AND I ADORE IT A LOT LOVE THIS SO MUCH YOU HAVE NO IDEA PEOPLE YOU HAVE TO BUY IT I POP ONE IN MY MOUTH AND WOW ALL I CAN SAY IS I FEEL SO MUCH RELAXED AND BETTER LOVE THIS PRODUCT I HAVE AN EATING DISORDER SO I HAVE TO MAKE SURE I GET THE RIGHT SUPPLEMENTS :)
Date published: 2014-04-29
Rated

5

out of

5
by
Nathalie
from
They saved me of peri-menopause stress level ! I now take them after dinner and I can sleep all night. Sometimes if I still wake up once during the night, I can go back to sleep very fast. The taste is very good even if they're a bit large. This is a 10 stars product to me !
Date published: 2014-12-04
Rated

4

out of

5
by
Gary
from
Energy
As a specialist sports nutrition yes supplementation helps
Date published: 2023-12-02
Rated

3

out of

5
by
Christi
from
If you can't manage to swallow tablets, then this is an easy way to go, however, if you can, I'd recommend sticking with the original type. This product has a rather sweet/tart flavour that I find rather unpleasant, and in future I'll be buying B complex vitamins that I can swallow. Just a footnote... if you are experiencing serious stress and anxiety that is negatively affecting your quality of life, please don't reach for the vitamin B... see your doctor!
Date published: 2012-06-07
Rated

5

out of

5
by
Joseph
from
This is a great product. Before I bought it I was always stressed out about everything. After a few days with the vitamin B, I am less stressed. I feel better, and Jamieson has always been a trusted brand. I highly recommend these if you feel stressed out all of the time.
Date published: 2012-03-16
Rated

5

out of

5
by
David
from
My wife takes these because she prefers chewables to large capsules - she says they work very well.
Date published: 2018-07-09
Rated

4

out of

5
by
Karen
from
They are quite hard, so you have to suck on them a bit before you can actually bite in, and there is a definite 'vitaminy' taste behind the flavouring, but if you can't take pills, these are the best alternative I've found. I always prefer gummies, but that 'other company's' gummies have an odd mouth-feel and are lacking in several of the B's.
Date published: 2014-10-15
Rated

5

out of

5
by
Pam D.
from
Healthier immune system ,
B vitamins promotes energy levels, brain function, and cell metabolism. Vitamin B complex is amazing taste, Chewable tablets with no bitter after affects. Since taking my B Complex I seem to have more energy, Thank you Jamieson Family .
Date published: 2020-11-04