Jamieson Chewable Vitamin B Complex
Berry Bliss
90 Chewable Tablets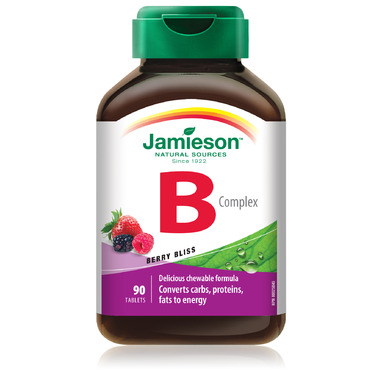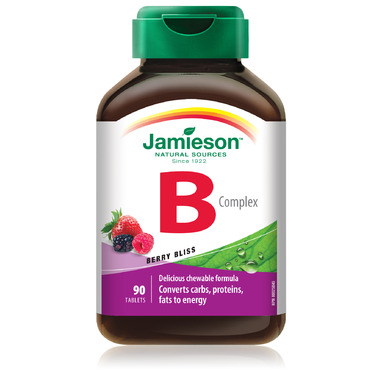 Jamieson Chewable Vitamin B Complex
Berry Bliss
90 Chewable Tablets
Canada's first chewable Vitamin B complex!Ideal for anyone who doesn't like to swallow pills, this irresistible berry-flavoured chewable tablet delivers your essential daily B Vitamins. You won't find a tastier way to boost your energy, maintain healthy nerves, ease stress and maintain heart health.

Benefits:
Aids in the metabolism of carbohydrates, fats and proteins for energy production
Essential for maintaining healthy nerves and liver
Anti-homocysteine complex supports cardiovascular health
Assists in the formation of red blood cells
Helps prevent neural tube birth defects
Eases stress and anxiety
Helps maintain a healthy immune system
Ingredients:
Vitamin B1 (Thiamine Mononitrate) 25 mg
Vitamin B2 (Riboflavin) 25 mg
Vitamin B3 (Niacinamide) 25 mg
Vitamin B5 (Calcium d-Pantothenate) 25 mg
Vitamin B6 (Pyridoxine HCl) 25 mg
Vitamin B12 (Cyanocobalamin) 25 mcg
Folate (Folic Acid) 30 mcg
Biotin 25 mcg
Choline (Choline Bitartrate) 25 mg
Inositol 25 mg

Also contains:Dextrose, Cellulose, Mannitol, Citric Acid, Natural Flavours (Strawberry, Blueberry, Raspberry, Vanilla, Grape), Vegetable Stearic Acid, Vegetable Magnesium Stearate, Silica, Sucralose, Water-Soluble Cellulose, Titanium Dioxide, Polydextrose, Purified Magnesium Silicate, Maltodextrin, Medium Chain Triglycerides.

Dosage: 25 mg