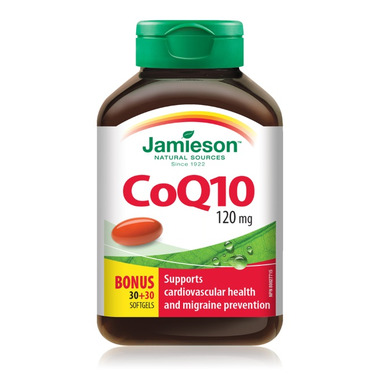 Description
CoQ10 plays a role in energy production and helps to reduce free radical damage in the body. It protects cells from premature aging and supports healthy CoQ10 levels for patients prescribed statin drugs. CoQ10 supports cardiovascular health.
Jamieson's soft-gel delivery system ensures there is no potency or nutrient degradation of the CoQ10 due to heat or solvent manufacturing procedures.
The 120 mg formula helps replenish the body's essential CoQ10 levels during intensive statin therapy and is a high-potency formula recommended for anyone with a more serious cardiovascular condition. In addition to antioxidant and energy support, however, higher-dose CoQ10 helps reduce the frequency of migraine headaches and associated nausea and vomiting. By improving circulation, a higher dose of CoQ10 is also beneficial for gum health.
Benefits:
Helps to maintain cardiovascular health
An antioxidant for the maintenance of good health
Supports cellular energy production
Supports healthy CoQ10 levels for patients prescribed statin drugs
Suggested Usage:
Adults: To maintain and support cardiovascular health and/or as an antioxidant: Take 1 softgel 1-2 times daily.
For migraine prophylaxis: Take 1 softgel 2 times daily. Use for a minimum of 3 months to see beneficial effects. Store between 15°C and 25°C, away from children.
Ingredients:
Co-Enzyme Q10 120 mg
Also contains: Soybean Oil, Soy Lecithin, Gelatin, Glycerin, Titanium Dioxide, Natural Annatto Colour.
Highlights

Shipping & Returns
We are only able to ship this item to Canadian customers.
This item cannot be shipped to Quebec due to provincial pharmacy regulations.
Click here for more information