Jamieson
Jamieson Digestive Care Daily Relief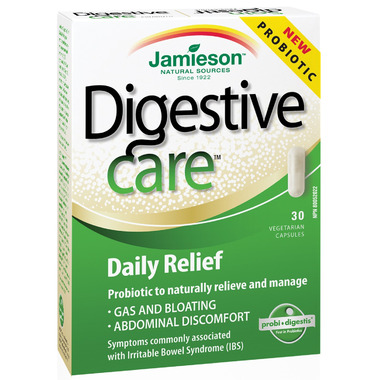 Jamieson
Jamieson Digestive Care Daily Relief
Description
Jamieson Digestive Care Daily Relief is a natural probiotic supplement that helps relieve and manage gas, bloating and abdominal discomfort. It contains clinically studied Probi Digestis, a probiotic strain that helps provide relief from Irritable Bowel Syndrome (IBS) symptoms.
Recommended Dosage: (Adults) Take 1 capsule daily. Take at least 2-3 hours before or after taking antibiotics. To ensure maximum potency and freshness, refrigerate after opening. Keep out of reach of children.
Caution:
Consult a health care practitioner prior to use if you have fever, vomiting, bloody diarrhea, or severe abdominal pain. If symptoms of digestive upset (e.g. diarrhea) occur, worsen, or persist beyond 3 days, discontinue use and consult a health care practitioner. Do not use this product if you have an immune-compromised condition (e.g. AIDS, lymphoma, patients undergoing long-term corticosteroid treatment). This product has come into contact with soy. Do not use if you have a soy allergy.
Highlights

Features
Helps support optimal digestive health
Provides natural gas, bloating and abdominal discomfort relief
Helps provide relief of symptoms of Irritable Bowel Syndrome (IBS)
Formulated with Probi Digestis probiotic strain
Vegetarian and gluten-free formula
Ingredients
Probi Digestis? Lactobacillus plantarum (LP299V?) 10 Billion CFU* *Guaranteed to expiry. Also Contains: Water-soluble cellulose, vegetable magnesium stearate, potato starch.
Shipping & Returns
We are only able to ship this item to Canadian customers.
Please be advised that Well.ca follows manufacturer guidelines for storing & shipping probiotics.
Click here for more information