Jamieson Digestive Care Travel Probiotic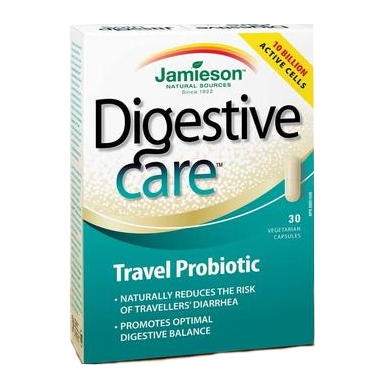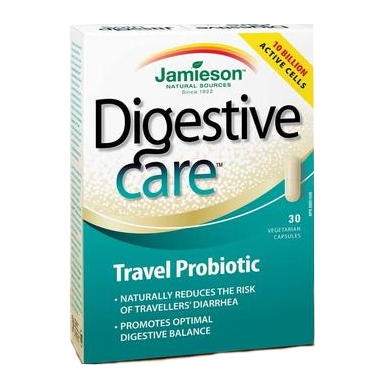 Jamieson Digestive Care Travel Probiotic
- We're sorry, this product is no longer available!
- Shop for other products in: Probiotics

Jamieson Digestive Care Travel Probiotic naturally relieves and manages infectious and antibiotic-associated diarrhea. Made with the clinically proven probiotic strain Lactobacillus GG – the world's most documented probiotic, Jamieson Digestive Care Travel Probiotic provides 10 billion active cells guaranteed to expiry, naturally supports overall gastrointestinial health with daily use.
Benefits:
Natural
Gluten Free
Lactose free
No artificial colours, flavours or preservatives
Pharmaceutically tested to guarantee full potency and absolute clinical purity
Features:
Helps to manage acute infectious diarrhea.
Helps to manage and/or reduce the risk of antibiotic-associated diarrhea.
Source of Probiotics.
Helps support intestinal/gastrointestinal health.
Could promote a favourable gut flora.

Ingredients:
Each Capsule contains:
Lactobacillus rhamnosus GG (LGG) 1x1010 CFU**
Guaranteed to expiry.
Also contains:
Fructo-oligosaccarides, maltodextrin, water-soluble cellulose.
Directions:
Adults: When travelling: Start at least 2 days before departure, taking 1 capsule daily with a meal and
continue 2 days after return.
Cautions:
Consult a health care practitioner prior to use if you have fever, vomiting, bloody diarrhea or sever abdominal pain. If symptoms of digestive upset (eg. diarrhea) occur, worsen or persist beyond 3 days, discontinue use and consult a health care practitioner. Do not use this product if you have an immune-compromised condition (Eg AIDS, lymphoma, patients undergoing long-term corticosteriod treatment)

Please be advised that Well.ca follows manufacturer guidelines for storing & shipping probiotics.