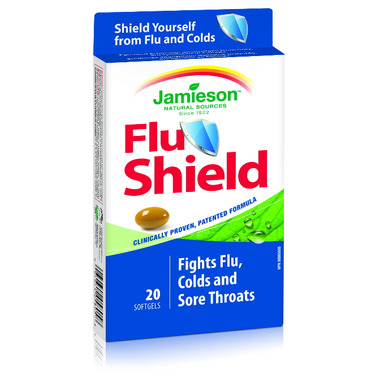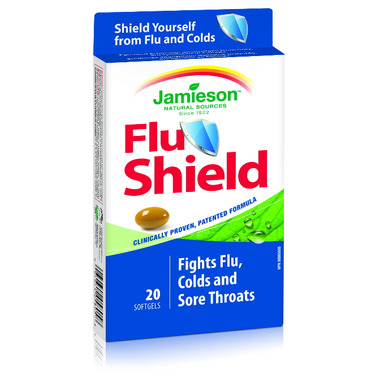 - We're sorry, this product is no longer available!
- Shop for other products in: Cold & Flu Medicine

Jamieson FluShield contains Echinacea angustifolia, a wildflower native to North America that is known for its traditional medicinal benefits. It has a long history as a healing herb used by Native Americans. The roots of Echinacea angustifolia contain a glycoside (echinacoside) and a polysaccharide (echinancin).

Echinacea is commonly used for the prevention of respiratory infections, including inflammation of the respiratory tract. Studies have shown that by taking echinacea extract at the first sign of a cold or flu, the frequency, duration and severity of symptoms have been known to decrease.

Directions
Take 1 capsule, 3 times daily. May be used up to 21 days.
Benefits

• Effective, natural and fast-acting formula

• Clinically proven to boost immunity and fight the flu virus

• Fights cold, flus and infections
Ingredient Information
LPx3 Echinacea Polinacea™ (5:1) extract 200 mg (derived from Echinacea angustifolia root and equivalent to 1,000 mg of dried herb.

Excipients: Vegetable oil, yellow beeswax, soy lecithin, gelatin, glycerin, natural caramel colour, titanium dioxide.
Restrictions
Drug Interactions: Do not take Echinacea if using immuno-suppressants (i.e. corticosteroids, cyclosporin).

Nutrient Depletions: None known when taken as directed.

Supportive Interactions: Other herbs such as goldenseal or medicinal mushrooms also enhance the immune system. These can be used along with Echinacea (or during periods of rest off of Echinacea) to help maximize the effect of this herbal remedy.

Warnings And Precautions: Consult a health care practitioner prior to use if you have rheumatoid arthritis, a progressive systemic disease, such as tuberculosis, leucosis, collagenosis, multiple sclerosis, AIDS, HIV infection; or if you have autoimmune disorders or are taking immunosuppressants. Consult a healthcare practitioner if symptoms persist. Do not use if you are pregnant or breastfeeding or if you have an allergy to Asteracea/Compositae (daisy) family.

The use of FluShield does not preclude simultaneous antibiotic use. Use of antibiotics may be essential in treating your condition. Always consult a healthcare practitioner.

Toxicity, Adverse Warnings and Side Effects: Adverse reactions to Echinacea are rare. However, high doses can cause nausea or dizziness. If you experience any difficulty breathing or develop a skin rash, discontinue use and contact a physician.