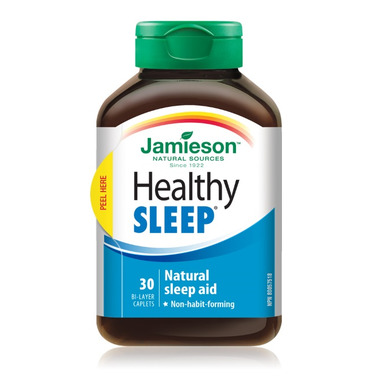 Description
Jamieson Healthy Sleep is the only time-release natural sleep aid product with stress relieving ingredients. It is non-habit forming and no concerning side effects associated with OTC sleep aids. Melatonin helps reduce the time it takes to fall asleep, while also increasing total sleep time and improving sleep quality. It contains L-Theanine, Chamomile, Rhodiola, and Skullcap herbal ingredients to promote relaxation and relieve stress.
Features:
Bi- layer caplets
Formulated from non-animal premium grade melatonin
No gluten, lactose, artificial colours, flavours or preservatives
Helps reduce the time it takes to fall asleep
Helps to increase total sleep time and sleep quality
Non-habit forming
Adult Dosage:
Take 1 caplet 30-60 min before bedtime. If a good night's sleep is not achieved take 2 caplets the 2nd night, 30-60 minutes before bedtime. For optimal results, take 3-4 nights to achieve healthy sleep patterns.
Ingredients:
Melatonin 5 mg
Skullcap (4:1) Extract (Scutellaria lateriflora L., herb top) 62.5 mg Equivalent to 250 mg of raw herb
Rhodiola (10:1) Extract (Rhodiola rosea L., root)100 mg Standardized to 1% Salidroside, 2% Rosavin
Chamomile (4:1) Extract (Matricaria recutita, flower)5 mg Equivalent to 20 mg of raw herb
L-Theanine 100 mg
Warnings and Precautions:
Consumption with alcohol, other medications or natural health products with sedative properties is not recommended. Consult a health care practitioner prior to use if you are taking: anticoagulant, anticonvulsant, blood pressure, immunosuppressive, sedative hypnotic or psychotropic medications, or steroids, hormone replacement therapy (HRT) or birth control pills; if you have: asthma, cardiovascular, chronic kidney, immune system, liver, depression, diabetes or hypoglycemia, hormonal or seizure disorders, or migraines; if symptoms worsen or sleeplessness persists continuously for more than 3 weeks (chronic insomnia). Do not use if you are pregnant or breastfeeding, if you have bipolar disorder or bipolar spectrum disorder or if you are allergic to plants of the Asteraceae/Compositae/Daisy family. Discontinue use if you experience mild gastrointestinal symptoms (nausea, vomiting, or cramping), rare allergic reactions, irritability or insomnia. Some people may experience drowsiness. Exercise caution if operating heavy machinery, driving a motor vehicle or involved in activities requiring mental alertness.
Highlights

Shipping & Returns