Jamieson Nature's Best Balanced Complex Vitamin E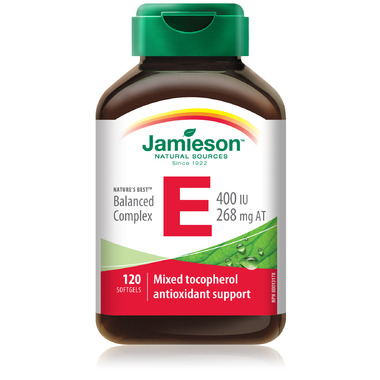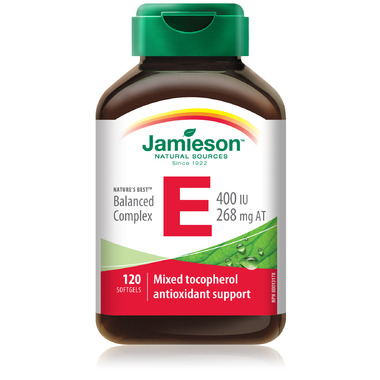 Jamieson Nature's Best Balanced Complex Vitamin E
Balanced Vitamin E 400 IU with Mixed Tocopherols is a natural source of antioxidant support and a factor in the maintenance of good health. It helps to support cardiovascular health, prevents the premature aging of cells and protects against age-related cognitive decline.

This Jamieson product is distilled from fresh vegetable oils that provide a blend of natural mixed tocopherols in the ratio that occurs in nature. It contains natural Vitamin E (d-alpha tocopherol), which has been shown to be at least twice as bioavailable as its synthetic counterpart.

Benefits
Natural-source antioxidant support
A factor in the maintenance of good health
Supports cardiovascular health
Prevents premature aging of cells
Protects against age-related cognitive decline
Each capsule contains:
Natural Vitamin E…………………………...…268 mg AT/400 IU
(providing d-alpha tocopherol activity with a natural complex of Nature's Best™ d-alpha, d-beta, d-delta, and d-gamma tocopherols) GMO-Free Formula

Excipients: Soybean Oil, Gelatin, Glycerin.


Mary:
more than a year ago
My husband has gluten sensitivity that affects his skin. The Vitamin E is a big help in balancing his skin so he doesn't get flaking and dryness. I take it too for the same reason. This plus daily cream has kept us both with healthier skin. Highly recommend for adults of any age but we both appreciate its importance for aging skin.
Page
1