Jamieson Neurosome St. John's Wort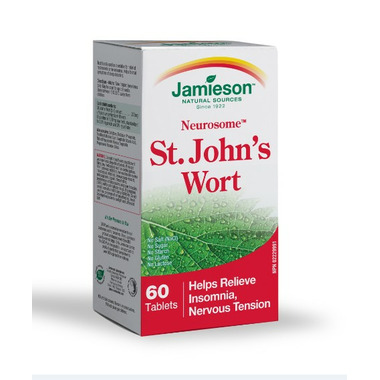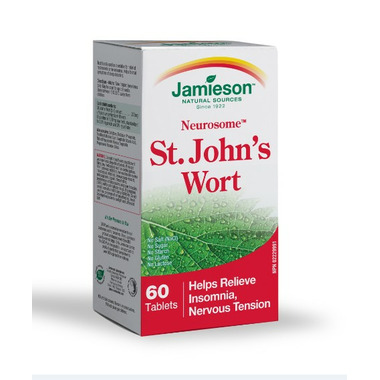 Jamieson Neurosome St. John's Wort
This product provides relief of nervousness, restlessness, insomnia, and helps treat mild depression. It is used for relief of neuralgia and chronic pain. Neurosome™ St. John's Wort is a gentle and effective herb that causes fewer side effects than conventional antidepressant medications. It is standardized to contain 0.3% hypericin and 3% hyperforin, the active ingredients in St. John's Wort. This means that you get the same amount in every capsule taken.

Benefits

Provides relief of nervousness, restlessness, and insomnia
Helps treat mild depression
Provides relief of neuralgia and chronic pain

Each tablet contains:
St. John's Wort (5:1) extract 200 mg (Hypericum perforatum, flower)
Equivalent to 1,000 mg raw herb, standardized to 0.3% hypericin and 3% hyperforin.
Excipients: Cellulose, Dicalcium Phosphate, Modified Cellulose Gum, Vegetable Stearic Acid, Natural Peppermint Flavour, Vegetable Magnesium Stearate, Silica.


Anysia:
more than a year ago
I used to take the brand of St. John's Wort used in one of the original German studies to show effectiveness for moderate depression back in the 90s (which had both hypericin and hyperforin as the Jamieson brand does). I couldn't find that brand this time around so I've tried several others. Jamieson is the only one I can find that standardizes to both ingredients (hyperforin was shown in studies to be a critical component but most companies don't standardize to this ingredient as the earlier studies only talked about hypericin).

I have both the Webber Naturals and the Jamieson brand. The Webber stuff doesn't really work for me (I can tell within a week of starting it if there is an effect) and is only standardized to hypericin. The Jamieson brand works like a charm.

Best of all, I have not had any noticeable side effects from St. John's Wort, whereas side effects from prescription anti-depressants make them unusable for me.

YMMV.
Page
1