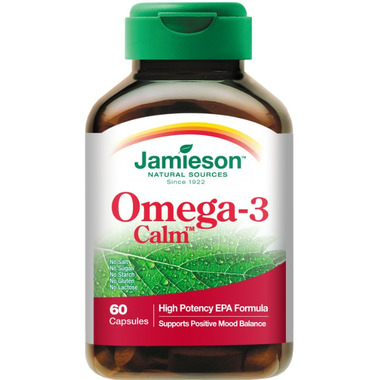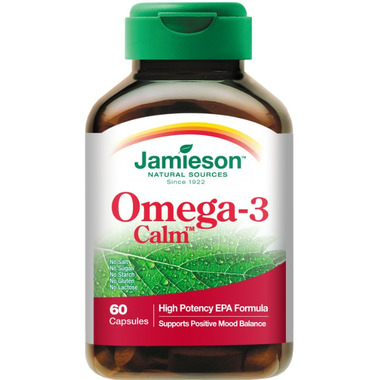 Omega-3 Calm helps regulate mood and supports emotional well-being. It eases symptoms of depression and related emotional disorders, including sadness, anxiety and sleep disturbances. Also, it reduces the risk of seasonal affective changes.

This pharmaceutical-grade product is formulated with a high concentration of the omega-3 essential fatty acid eicosapenatenoic acid (EPA). EPA is a precursor to the eicosanoids, which may affect mood by triggering specific receptors in the brain. It also exerts anti-inflammatory effects that can positively influence mental health.

Omega-3 Calm is formulated with EPA and DHA in their natural triglyceride form for optimal bioavailabilty.

Many other EFA products use fish oils in the ethyl-ester form. This form is less stable and not as well absorbed as Jamieson's triglyceride form.

The DHA and EPA are extracted from sardines, mackerel and anchovy, which have lower levels of contaminants than other cold-water fish because they feed directly on plankton.

Jamieson fish oil is then purified using a gentle molecular distillation process to remove all traces of mercury and other micro-contaminants.

Benefits:
• Helps regulate mood and supports emotional well-being

• Eases symptoms of depression and related mental disorders, including sadness, anxiety and sleep disturbances

• Reduces risk of seasonal mood changes

Each capsule contains:
Omega-3 Fatty Acids ................................................700 mg
Providing:
EPA (Eicosapentaenoic Acid TG) .............................510 mg
DHA (Docosahexanoic Acid)...................maximum 190 mg
(Derived from 1000 mg of pure molecularly distilled sardine and anchovy fish oil in the natural bioactive TG Triglyceride form)
Excipients: Gelatin, Glycerin, Mixed Tocopherols.

Ann:
more than a year ago
I have tried several omega products and this is the very best. It is formulated to improve your mood and it really works. I just wish I had known about this while I was going through menopause as it would have saved me a lot of down time! Thank you Jamieson and thank you Well.ca for your super service.
Page
1