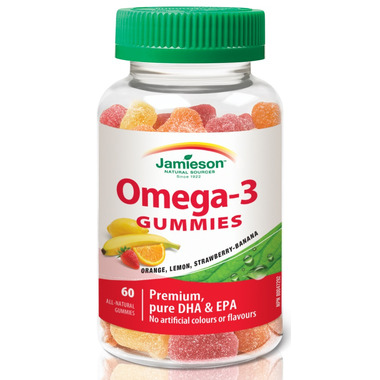 Description
Jamieson Omega 3 Gummies are formulated from natural sources and are pharmaceutically tested to guarantee full potency and absolute clinical purity. Providing premium EPA and DHA to support cognitive health and brain function, these all-natural tropical fruit flavoured omega-3 gummies offer a great tasting alternative to capsules or conventional fish oils and are free from aspartame, artificial colours and flavours.

Benefits:
Source of omega-3 fatty acids for the maintenance of good health
Source of eicosapentaenoic acid (EPA) and docosahexaenoic acid (DHA) for the maintenance of good health
Helps support cognitive health and/or brain function
Each gummy contains:
Fish Oil (tuna body oil) 113.5 mg
Providing Omega-3 Fatty Acids 35 mg
EPA 5 mg
DHA 5 mg
Also contains:
Gelatin, glucose syrup, sugar, citric acid, lactic acid, fumaric acid, natural flavours (strawberry, banana, orange, lemon), natural colours (black carrot juice concentrate, turmeric, annatto), fractionated coconut oil, yellow wax.
No aspartame, salt, gluten, artificial flavours or colours.
Adults and children 2 years and older:
Chew 4 gummies daily. Store between 15°C and 25°C, away from children.
Warnings:
None are known when taken as directed.
Highlights

Shipping & Returns