Jamieson Probiotic 5 Billion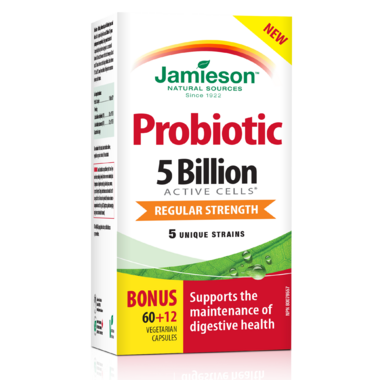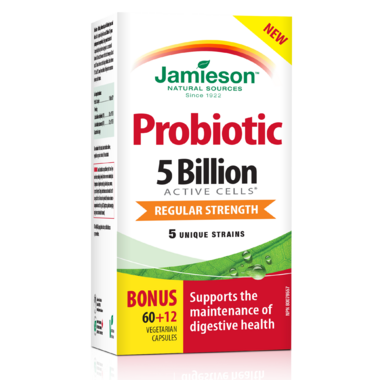 Jamieson Probiotic 5 Billion
Jamieson Probiotic 5 billion supports the maintenance of optimal digestive health. It contains 5 unique probiotic strains to help restore balance to the digestive tract.
Features:
Supports the maintenance of digestive health
High quality, value-conscious probiotic
Suggested Use:
Take 1 capsule daily with a meal.
Ingredients:
Probiotic Complex 5 Billion CFU* Consisting of:
Lactococcus lactis (A200) 3.5 x 109 CFU, Lactobacillus gasseri (A237) 0.5 x 109 CFU, Lactobacillus rhamnosus (A119) 0.5 x 109 CFU, Bifidobacterium animalis subsp lactis (A026) 0.4 x 109 CFU, Bifidobacterium breve (A055) 0.1 x 109 CFU.
Potato starch, water-soluble cellulose, titanium dioxide, inulin, vegetable magnesium stearate, ascorbic acid, silica.
Caution:
Consult a health care practitioner prior to use if you have fever, vomiting, bloody diarrhea or severe abdominal pain. If symptoms of digestive upset (e.g. diarrhea) occur, worsen, or persist beyond 3 days, discontinue use and consult a health care practitioner. Do not use if you have an immune-compromised condition (e.g. AIDS, lymphoma, patients undergoing long-term corticosteroid treatment).
Please be advised that Well.ca follows manufacturer guidelines for storing & shipping probiotics.