Jamieson Probiotic 60 Billion Delayed Release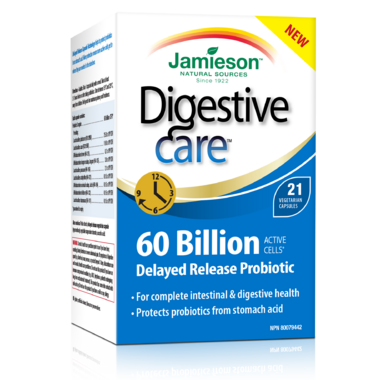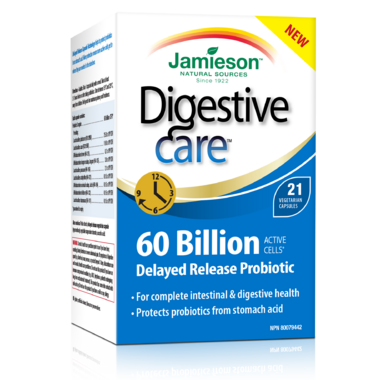 Jamieson Probiotic 60 Billion Delayed Release
Jamieson Digestive Care 60 billion is a high potency probiotic for complete intestinal and digestive health. It utilizes delayed-release capsule technology to help protect the probiotics from being destroyed by stomach acid. This means more active cells get to where they are needed in the intestines.
Features:
High potency probiotic
For complete intestinal & digestive health
Protects active cells from stomach acid
Suggested Use:
Take 1 capsule daily with a meal.
Ingredients:
Probiotic Complex 60 billion CFU, Lactobacillus plantarum (R1012ND) 25.8 x 109 CFU, Lactobacillus casei (R0215ND) 19.8 x 109 CFU, Bifidobacterium breve (HA-129) 8.7 x 109 CFU, Bifidobacterium longum subsp longum (HA-135) 3.0 x 109 CFU, Lactobacillus paracasei (HA-196) 2.1 x 109 CFU, Lactobacillus acidophilus (HA-122) 0.15 x 109 CFU, Bifidobacterium animalis subsp lactis (HA-194) 0.15 x 109 CFU, Bifidobacterium bifidum (HA-132) 0.15 x 109 CFU, Lactobacillus rhamnosus (HA-111), 0.15 x 109 CFU.
Potato starch, delayed release capsule (hypromellose), vegetable magnesium stearate, ascorbic acid.
Caution:
Consult a health care practitioner prior to use if you have fever, vomiting, bloody diarrhea or severe abdominal pain. If symptoms of digestive upset (e.g. diarrhea) occur, worsen, or persist beyond 3 days, discontinue use and consult a health care practitioner. If you have an immune-compromised condition (e.g. AIDS, lymphoma, patients undergoing long-term corticosteroid treatment), do not use this product. This product has come into contact with milk and soy. Do not use this product if you have a milk or soy allergy.
Please be advised that Well.ca follows manufacturer guidelines for storing & shipping probiotics.