Jamieson
Jamieson Probiotic Ultra Strength 60 Billion Active Cells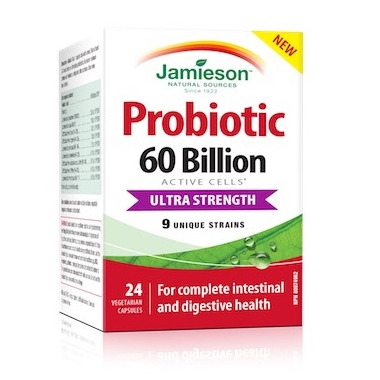 Jamieson
Jamieson Probiotic Ultra Strength 60 Billion Active Cells
Description
Jamieson 60 Billion is a high-potency probiotic that when taken once per day, provides support for the maintenance of optimal intestinal and digestive health.

Recommended Dosage: Children 3-5 years (under parent's supervision): Empty powder/contents of 1 capsule daily directly into food, yogurt, etc. and mix until dissolved. Do not add to warm or hot food or beverages. Take at least 2-3 hours before or after taking antibiotics. Adults, adolescents, and children 6 years and older: Take 1 capsule daily with a meal. Take at least 2-3 hours before or after taking antibiotics.

*Guaranteed to expiry

Caution: Consult a health care practitioner prior to use if you have fever, vomiting, bloody diarrhea or severe abdominal pain. If symptoms of digestive upset (e.g. diarrhea) occur, worsen, or persist beyond 3 days, discontinue use and consult a health care practitioner. Do not use this product if you have an immune-compromised condition (e.g. AIDS, lymphoma, patients undergoing long-term corticosteroid treatment).

Highlights

Features
For complete intestinal and digestive health
Ultra Strength with 9 unique strains
Advanced tube technology packaging to guarantee potency & freshness on shelf
Active cell count is guranteed to expiry
No artificial colours, flavours or sweeteners
Vegetarian Capsules

Ingredients
Probiotic Complex 60 billion CFU* Lactobacillus plantarum (R1012ND) 25.8 x 109 CFU Lactobacillus casei (R0215ND) 19.8 x 109 CFU Bifidobacterium breve (HA-129) 8.7 x 109 CFU Bifidobacterium longum subsp. Longum (HA-135) 3.0 x 109 CFU Lactobacillus paracasei (HA-196) 2.1 x 109 CFU Lactobacillus acidophilus (HA-122) 0.15 x 109 CFU Bifidobacterium animalis subsp lactis (HA-194) 0.15 x 109 CFU Bifidobacterium bifidum (HA-132) 0.15 x 109 CFU Lactobacillus rhamnosus (HA-111) 0.15 x 109 CFU
Shipping & Returns
We are only able to ship this item to Canadian customers.
Please be advised that Well.ca follows manufacturer guidelines for storing & shipping probiotics.
Click here for more information