30 Billion Active Cells
30 Capsules

Please be advised that Well.ca follows manufacturer guidelines for storing & shipping probiotics. This product will be shipped with ice-pack to maintain product efficacy.
Jamieson Probiotic — 30 Billion Active Cells balances intestinal microflora and is used for overall digestive and immune health, the two main benefits that come from healthy bacteria in the gut. In addition, this product can be safely taken by children. Each easy-to-swallow veggie capsule is formulated to contain a minimum of 30 billion cells guaranteed until time of expiry, provided by Lactobacillus and Bifidobacterium bacteria strains. It is ideal for individuals requiring a high potency probiotic supplement for a specific health condition to help rebalance intestinal flora and boost the immune system.

Directions:
Adults, adolescents and children over 1 year: Take 1 capsule daily. For young children, capsule can be broken apart and sprinkled over semi-solid foods such as yogurt or apple sauce.

Excipients: Cellulose, vegetable stearic acid, vegetable magnesium stearate, water-soluble cellulose.

Ingredient Information: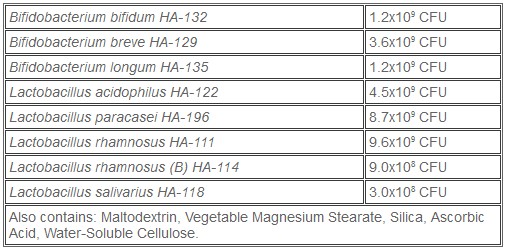 Restrictions:
Drug Interactions: None known when taken as directed.

Nutrient Depletions: Antibiotics since probiotics protect against diarrhea caused by antibiotics.

Supportive Interactions: Anti-acne drugs (helps promote healthy bacteria), anti-ulcer drugs, penicillins (anti-infectives) — reduce frequency of diarrhea.

Warnings and Precautions: Discontinue use and consult a health care practitioner if symptoms of digestive upset (e.g. diarrhea) occur, worsen, or persist beyond 3 days. Do not use if you are experiencing nausea, fever, vomiting, bloody diarrhea or severe abdominal pain. Do not use if have an immune-compromised condition (e.g. AIDS, lymphoma, patients undergoing long-term corticosteroid treatment).

Toxicity, Adverse Reactions and Side Effects: Do not exceed recommended dosage. Large quantities may cause diarrhea or other gastrointestinal side effects.
Please be advised that Well.ca follows manufacturer guidelines for storing & shipping probiotics.