Jamieson Time Release Potassium 195mg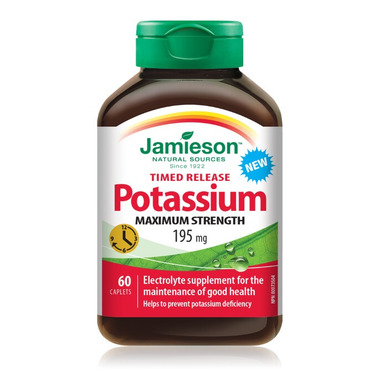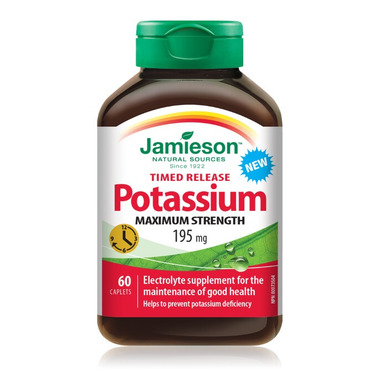 Jamieson Time Release Potassium 195mg
Jamieson's Potassium 195mg provides a maximum strength dose of Potassium in a timed-release formula to deliver sustained potassium supplementation throughout your day. This high-potency formula is a source of electrolyte supplement for the maintenance of good health and helps prevent potassium deficiency.
Features:
Maximum Strength, High-potency formula
Timed Release
Electrolyte supplement for the maintenance of good health
Helps to prevent Potassium deficiency
Suggested Use:
Take 1 caplet daily with a meal.

Ingredients:
Potassium (Gluconate) 195 mg. Water-soluble cellulose, cellulose, dicalcium phosphate, sorbitol, vegetable stearic acid, vegetable magnesium stearate, silica, hydroxypropyl cellulose.
Caution:
Do not use with other potassium-containing supplements or with potassium-containing salt-substitutes. Not to be used following vigorous exercise or acute dehydration (unless administered with an appropriate balance of other minerals, e.g. sodium).