Jamieson
Jamieson Vitamin B12 Fast Dissolving Sublingual Tablets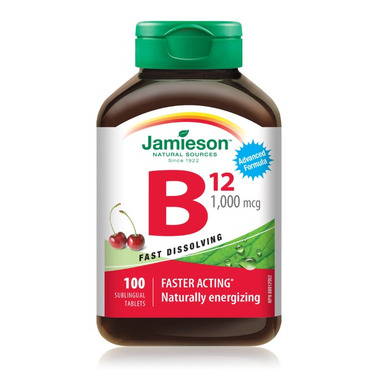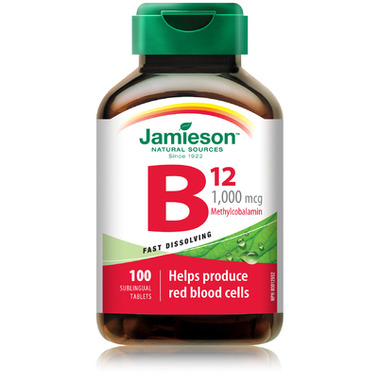 Jamieson
Jamieson Vitamin B12 Fast Dissolving Sublingual Tablets
1000 mcg
100 Tablets
Jamieson Vitamin B12 Fast Dissolving Sublingual Tablets
is rated out of
5
by
79
.
---
Description
New package, same great product! This item has a new label and may be shipped with one of two labels as we transition.

Jamieson Vitamin B12 1,000 mcg Fast Dissolving Sublingual Tablets use the methylcobalamin rather than the cyanocobalamin form of Vitamin B12. The methylcobalamin form of Vitamin B12 is very important in the prevention of neurological disorders, as it prevents nerve damage by maintaining myelin, the fatty sheaths that cover and protect nerve endings. While the most common form of Vitamin B12 is cyanocobalamin, it is the methylcobalamin form that is needed to protect against central and peripheral neurological diseases.
Directions: Adults, take one tablet daily on or under tongue.
Highlights

Features
A factor in the maintenance of good health
Helps the body to metabolize carbohydrates
Helps the body to metabolize fats and proteins
Helps to form red blood cells
Ingredients
Each tablet contains: Vitamin B12 (Methylcobalamin)????1,000 mcg. Cellulose, calcium silicate, sodium sulfate, polyvinylpyrrolidone, natural cherry flavour, vegetable magnesium stearate, silica, mannitol, stevia. WARNING: Consult a health care practitioner prior to use if you are pregnant or breastfeeding.
Shipping & Returns
Rated

5

out of

5
by
John
from
I have neuropathy caused by celiac disease which causes the gut to not absorb B-12 from the food you eat. B-12 is necessary to form a protected sheath around the sensorary nerves to prevent damage that causes neuropathy. This form of B-12 (methylcobalamin) works much better than the regular one. It absors into your blood stream better when it disolves under your tongue. I have had better success with this brand of product than many others. Highly recommend it.
Date published: 2018-03-06
Rated

5

out of

5
by
Michael T.
from
Great product, after coming out
Great product, after coming out of our Cov'd illness, my wife (73 and 70 respectively) and I still lacked our normal, usual energy and decided to try the Jamieson B12 to boost things back to normal. Within days we both noticed an uptake in our energy. We continue to use the B12 as part of our daily Vitamin maintenance. Jamieson delivered the product in days, great delivery and order experience. The taste and qulity is outstanding. Value for your dollar is excellent for what we believe should be part of ones regular vitamin maintenance as we age on. Thanks Jamieson. Would definitely recommend this product.
Date published: 2021-04-12
Rated

4

out of

5
by
Kathy
from
Jamieson makes quality products. This vitamin is good, and is in a higher dose than some other brands. Easy to use because it dissolves under your tongue - the only thing is that while it dissolves it has a thick pasty feeling in your mouth. Would be better if it dissolved instantly like Imodium Instant Dissolve. This B12 has no taste, though, so overall it is great.
Date published: 2013-07-02
Rated

5

out of

5
by
John
from
I have celiac disease and as a result my gut does not absorb B12 from the food I eat. B12 is necesary to protect the nerve endings from damage which causes neuropathy. The sublingual form is best because it is absorbed from under your tongue into the blood stream. This product works very well and disolves quickly with no aftertaste.
Date published: 2018-01-21
Rated

5

out of

5
by
Vanessa
from
I'm really happy with this tablet, and actually look forward to taking my vitamin! There is a mild berry flavour but NO taste as with other B capsules or tabs, and though yes it is a tad uncomfortable under the tongue, I find chewing it with front teeth and letting the pieces set under the tongue works well.
Date published: 2017-07-28
Rated

5

out of

5
by
Melody
from
After my car accident I suffered from migraines and chronic pain for years! The methylcobalamin has virtually eliminated the migraines and reduced my chronic pain meds by over 90%. I wish these were available in the 5,000mcg tabs as I take up to 30,000mcg a day. A miracle!
Date published: 2011-04-14
Rated

5

out of

5
by
Daniel
from
I have an auto immune disease that makes all my muscles inflammed and painfully sore. While I do take a prescription drug such as prednisone to calm down the overactive immune system attacking constantly the leg and arm muscles, I need to gather as much energy and strength from what muscle function is left by now, so a B12 tablets helps. Even 1000mcg is not enough now..I need about 5000 mcg, which I am also taking every day.
Date published: 2017-09-14
Rated

5

out of

5
by
Jan
from
Essential
Essential for my Pernicious amen, I have always counted on Jamieson as my provider of B12. I have been able to secure a reliable brand wherever I have travelled.
Date published: 2020-04-12